April 2, 2011 (San Diego)--The second annual San Diego County Library Acoustic Showcase is  underway. The Acoustic Showcase series offers a wide variety of some of San Diego's very best singer/songwriters, folk music performers and story tellers. These concerts are free to the community. This year's series includes over 30 concerts at 12 branch libraries between February and the end of June.
The following concerts are set for April:
Superwave
Sunday, April 3 - 2:00 PM
Fallbrook Branch
Superwave is a surf band from north San Diego County. They draw on the classic surf and rock bands of the 50s and 60s and play at many local bars and restaurants.
Virtual Strangers
Tuesday, April 5 - 6:30 PM
Rancho San Diego Branch
Virtual Strangers is a bluegrass band affiliated with the San Diego Bluegrass Society. The Virtual Strangers formed in Napa, CA in 1992. Usually a four-piece band with
banjo, guitar, mandolin, and bass, the "Strangers" are sure to impress.
Jeff Berkley
Saturday, April 9 - 2:00 PM
Poway Branch
Jeff Berkley is the son of a traveling evangelist and grew up playing drums in Southern California. He performs regularly at coffee houses throughout San Diego. Berkley often teams up with Calman Hart to form the duo Berkley Hart, and they recently released an independent album titled "Wreck n Sow."
Larry Robinson
Sunday, April 10 - 2:00 PM
El Cajon Library
Larry Robinson was a regular on Main Street in Fallbrook, CA in the 1990s. Robinson grew up with rock royalty in the 60s and nearly made it big with Things to Come, a combo that featured Russ Kunkel and yielded a few hit singles. His music captures the California lifestyle, from the tip of Baja up to Northern California.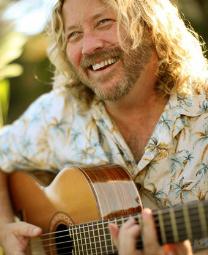 Charlie Imes
Tuesday, April 12 - 3:00 PM
Jacumba Library
Charlie Imes is a San Diego based singer/songwriter known for his sun-drenched, beach music that incorporates elements of folk, pop, and jazz. His debut album, On An Island, was nominated for a 2009 San Diego Music Award. Imes' live shows feature a blend of original songs and spirited covers.
Patty Hall
Wednesday, April 13 - 6:00 PM
Encinitas Library
Patty Hall is from the San Francisco area and taught herself how to play the banjo, guitar, and autoharp.
Her first original song, "Organic," became an audience favorite, especially with Girl Scouts and summer campers. Hall is currently a member of the San Diego Folk Song Society.
Dave Booda
Saturday, April 16 - 2:00 PM
La Mesa Library
Dave Booda is a Naval Academy graduate and was adopted as a protege by such legends as Betty Shirley. Booda is an officer in the U.S. Navy and enjoys the fanbases he has established while being stationed in San Diego and New Orleans.
Mair Rathburn
Friday, April 29 - 11:00 AM
Del Mar Library
Mair Rathburn's repertoire runs the spectrum from classical to folk and contemporary music. This singing harpist is a popular entertainer throughout Southern California and her "Christmas with the Harp" CD has been on regular rotation on Muzak, XM, JMX, and Sirius music services and global radio.
 
The full schedule of performers is available on the Acoustic Showcase web site.
 
Library Friends of San Diego County Library, eliteAudience, San Diego Bluegrass Society, and San Diego Folk Song Society are sponsors of this music series.