By Mia Myklebust
February 12, 2012 (El Cajon)--When El Cajon Brewing Company opened in October, it joined the ranks of San Diego's beer elite. The growing brewery culture in San Diego had a gap in East County that this local brewery and restaurant has filled with gusto.
From filling food to an array of craft beers brewed on site this El Cajon newcomer is well worth savoring.
President and CEO Stephan Meadows says it was all about timing for El Cajon Brewing Company. He cordially explained that the city was looking for a microbrewery to bring into town at the same time he was scouting a location in San Diego to open a brewery.
From there things seemed to fall into place for Meadows.
He said the location itself cost one million dollars including a full remodel. The project was partially funded by the city of El Cajon with a grant of $145,000. Meadows said the rest of the money came out of pocket.
The new restaurant has been growing slowly but surely since its opening, and has big plans for the future. The staff is pleasant and friendly and the service was timely.
One of the most unique aspects of the restaurant are the old-timey blown up photos of El Cajon that cover the walls—a great way to learn about the past as the city gears up for its centennial celebration this year.
Meadows said the company has doubled its production in the past month and that they are making well above their original projections. 
As a result of this initial success, the restaurant rolled out a new menu last month.
"The old menu was very simple," said Meadows. "We decided to expand it because people wanted different things." 
A noticeable addition to the menu were the 6 ounce steaks, which are a huge hit with customers because of their good quality and reasonable price. 
Meadows hopes the new menu will increase sales by $20,000 a month.
The improvements are just starting. Meadows has plans to add to the menu in the future; he would like it to include Mexican and pasta selections.
One thing on the menu that won't change is the signature Stuffed Burger. This burger is not for the faint of heart. Customers have the option to stuff it with three different fillings.
For my lunch the staff recommended the "popper" version, which comes filled with jalapeno peppers, cream cheese and bacon. This is a great recommendation.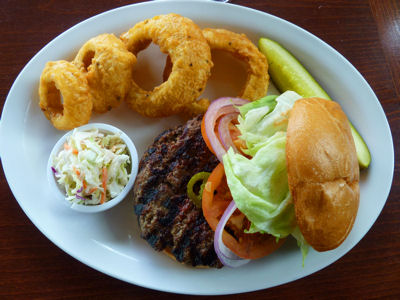 The half-pound burger does not skimp on anything and came out hot, huge and delicious. At $7.95 this burger is well worth the price.
Although I wasn't quite brave enough to try it, the Ultimate Stuffed Burger is another special menu item. "Ultimate" basically means you can order any of the Stuffed Burgers dipped in the house beer batter and deep-fried for an additional dollar.
The Veggie Wrap is a good option for those looking for a basic, healthy meal. There are also four different salad options, which I was glad to find on a brewery menu.

 
The house beer batter is an El Cajon Brewing Co. secret and used throughout the menu. One interesting place you will find it is in the house soup, a Potato Cheddar Cheese Beer Soup.
I was a bit nervous to try a soup with "beer" in the title, but I was pleasantly surprised by the result, though it came out a little less than piping hot.
A beer lover will feel like a kid in a candy store at El Cajon Brewery Co.
I'm indecisive when it comes to ordering, so I chose the flight of four beers for $5 to see which one I liked best.
After weighing my options I ordered a glass of the Pale Ale. It was crisp and full flavored, one of the best I've had. I was also tempted by the La Habana Smoked Weizenbock, which had a great smoky flavor that grew on me as I sipped.
The staff is excited and knowledgeable about the beer and is happy to help you make a decision about what to order. The wine menu is decent and my companion was content with her glass of Kendall Jackson.
Meadows' brother, who was previously a brewer in Sweden for 30 years, crafts all the beers himself.
"He's all about balance," said Meadows. "All the layers have to be there."
While his brother deals with the beer, Meadows deals with the food side of things for the restaurant.
"I've always been a food-lover," Meadows said.
He also revealed that most of the recipes on the menu are his own creations, adding that the beer batter recipe is probably his most closely guarded food secret.
I will definitely return to El Cajon Brewing Co., and when I do I can't wait to try to beer battered onion rings!
The company's catchphrase holds true, something epic is brewing in East County.
El Cajon Brewing Company
(between Main St & Douglas Ave)