Printer-friendly version
By Miriam Raftery
December 18, 2009 (San Diego's East County) – Waited too late to order online? Hate battling crowds at the malls? Or perhaps you've been holding out for gifts that are unique and locally made.
Good news! This year our "Gifts from the East" guide has plenty of great ideas for last-minute holiday shoppers who are seeking great gifts—all without venturing far from home. Be sure to tell these vendors that you heard about them in East County Magazine!
APPLE CRATE COUNTRY STORE & GARDEN, 13277 B Hwy 8 Business (Old Highway 80) in El Cajon, features a delightful variety of hand-crafted decorative and useful items for the home as well as garden products, bird houses, and much more. (619)441-2700.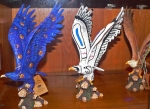 A TRADING POST, 12168 Woodside Ave., Lakeside offers handicrafts made by Native Americans. Dreamcatchers, jewelry, fur throws, and Indian dolls are among the many items you'll find here. The store also features lamps with leather shades and wildlifre figures, artwork, carved bears, and a whimsical collection of painted ponies, eagles and wolves.
BATES NUT FARM, Valley Center – What could be tastier than a gift pack filled with delicacies such as macademia nuts, almonds, plump dried apricots and freshly made candies? Packs start at about $35, or buy items individually. http://www.batesnutfarm.biz
THE BIRDWATCHER, Julian – San Diego is home to nearly 500 species of birds – more than any other county in North America! From gorgeous glass bird baths to birdfeeders to decorative items festooned with birds, you'll find everything a bird lover's heart could desire at this barn-like shop in historic Julian. http://www.thebirdwatcher.net/
CROSSROADS TREASURES, Santa Ysabel – Gemstones (including uncut tourmaline), geodes, fossils, petrified wood, jewelry and much more to delight children and their parents can be found at the Crossroads Treasures in Santa Ysabel, near the historic mining town of Julian. http://www.crossroadstreasures.biz/
FALCON GALLERY, 2015A Main Street, Julian has wildlife and western paintings and limited edition prints by local artists, books, crocheted throws, Native American jewelry and baskets. Julian quaint downtown district has many other unique stores and galleries as well.


GOLDEN ARTISTRY, in La Mesa's downtown Village, has stunning original jewelry designs by goldsmith/artist Terry Wythe, a master at his craft. View some of his stunning creations at www.goldenartistry.com.
GOLDEN POPPY, Alpine – Fused-glass pendants and other hand-crafted jewelry, Indian baskets, pottery, kitchen items and much more to delight those on your gift list can be found at the Golden Poppy, 2526 Alpine Boulevard in Alpine. Golden Poppy is nestled among about 20 unique shops in the JK Corral ( http://www.jkcorral.com/ ). While in the area, stop by The Vine Wine Bistro or Janet's Montana Café, two rustic and charming East County favorite dining spots next door. Print a coupon for 10% off at http://www.eastcountymagazine.org/sites/eastcountymagazine.org/files/gol....
JULIAN CIDER MILL, Corner of Main and B Streets in Julian, features a delicious array of products including Julian apple butter, jams and jellies, honey, dried fruits, nuts, apple and cherry cider, and many wonderful stocking stuffers for those on your gift list.
LA DOLCE BELLADONNA SALON, 596 N. Westwind Drive in El Cajon, is offering numerous holiday discounts for services to pamper those on your gift list—including skin, hair, nail and body services as well as teeth whitening. Visit their website at http://www.ldbsalon.com/. Print two different discount coupons at http://www.eastcountymagazine.org/sites/eastcountymagazine.org/files/bel... and http://www.eastcountymagazine.org/sites/eastcountymagazine.org/files/bel... .
NORTH START TRADING, Alpine – Native American and Western art and jewelry including Zuni fetishes, squashblossom necklaces, and works of art crafted from charred Manzanita wood burned in the cedar fire and embedded with jewels. http://northstartradingcoalpine.com/ . Print a coupon good for 20% off at http://www.eastcountymagazine.org/sites/eastcountymagazine.org/files/nor....
PINNOCHIO'S DOLLHOUSES & MINIATURES, Rancho Bernardo Winery – This delightful shop offers miniaturized doll houses and doll furnishings as well as miniature railroads—and the proprietors will custom-make miniature replicas of your favorite rooms. The Winery has many other unusual gift shops and galleries as well. http://www.bernardowinery.com/pinocchios.aspx
PRET-A-PORTER SALON AND SPA, 8043 La Mesa Blvd., La Mesa, offers spa treatments using earth-friendly products which you can purchase as well. Click here for a coupon to receive 50% any spa services at Pret-A-Porter: http://www.eastcountymagazine.org/sites/eastcountymagazine.org/files/pre... . Visit the salon's website at http://www.pretaportersalon.com/clientmanager/Live/Sites/NoFrame.asp?CID....
ROCKY MOUNTAIN CHOCOLATE FACTORY, located at the Viejas Outlet Mall in Alpine, offers hand-made fudge, caramel apples dipped in white or dark chocolate, sugar-free treats and Rocky Pop caramel corn, to name just a few delicacies. Visit www.rockymountainchocolatefactory.com to whet your appetite, then see www.shopviejas.com for directions and a list of other stores in the center, which features factory outlet stores from top national brands.
SUMMERS PAST HERB FARM, Flynn Springs – Herbal soaps (including gingerbread swirl and other holiday scents),soapmaking kits, bath and body products, cookbooks, house blend teas, potpourri, lavender products, flower seeds, plants, and fairy figurines are among the nostalgic items found here.http://www.summerspastfarms.com/
TWO SISTERS AND EWE, La Mesa – Find hand-knitted and crocheted scarves, hats and more – just like Grandma used to make at this charming store in La Mesa's downtown village. http://www.twosistersandewe.com.
Find more holiday discount coupons at http://www.eastcountymagazine.org/node/2111.
Know of a special "find" in East County not listed here? Please post in the comments section below!