Printer-friendly version
Candidate's troubled past leads to new beginnings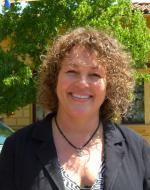 By Kristin Kjaero and Miriam Raftery
In part one of this series on election races in La Mesa, East County Magazine spotlights Mayoral challenger Laura Lothian.
August 27, 2010 (La Mesa)--Currently a successful real estate salesperson for Windermere Pacific Coast Properties in La Mesa, Laura Lothian is challenging incumbent Mayor Art Madrid in the November election. Her qualifications include serving on the La Mesa Parking Commission, on the La Mesa Chamber of Commerce Board of Directors, and as a member of the Village Merchant's Association and La Mesa Historical Society. She has been endorsed by Councilwoman Ruth Sterling.
New Beginnings
La Mesa Mayoral candidate Laura Lothian believes in new ideas and new beginnings. "I think it's not healthy to have someone in the same position year after year… I have a vision I want to implement, and then I'll get out," she pledged.
She cites friends who bought a troubled restaurant and soon had the place thriving by infusing enthusiasm, but not changing menus or décor. "The parallel I want to make is that sometimes a new energy comes in and it changes everybody's attitude."
Lothian describes herself as "having been a new kid my whole life." She attended nine schools before graduating high school and mentions living in at least eight states from the deep South to New England. Lothian went on to study journalism at Caifornia State University Long Beach. In California, she has lived in several Orange County communities, as well as Coronado and Mission Hills before moving to La Mesa in 2008 and building a successful career in real estate as well as becoming an active community volunteer.
Her website states, "Laura is a long-time resident of La Mesa and understands your concerns." She also pledges "squeaky clean integrity" and a "passion" for La Mesa.
Most of all, Lothian credits her ability to start over as central to her decision to run for Mayor. On her website, she states, "If elected mayor, I would be new at something again but I have proven repeatedly that I possess drive, common sense, a hard-work ethic and a knack for fixing what needs fixing."
In an interview with East County Magazine, she said candidly, "I realize it was remarkable to go from divorce, losing my house, my kids moving to Orange County and Mexico," she paused. "I was able to beat it, and do something and do it right."
Troubled Past
In researching candidates for higher office, ECM searches the on-line records for Superior Court, San Diego Assessor/Recorder/County Clerk as well as Google searches for news articles. We also look at voting records at the Registrar of Voters, and professional licensing records.
Lothian stated that she married Matthew Lothian in 1987. ECM's record search revealed problems for Lothian and/or her then-husband in at least 10 financial cases through the years including injunctive relief, loan defaults, sale of their foreclosed house, collection actions, an eviction, and State and Federal Tax Liens totaling $2.5 million.
Most significantly, a 1990 L.A. Times article here names her husband as one of five men at B.N. Goldberg Associates who were sentenced in a fraud case in Orange County "in connection with a $5-million telemarketing scam in which hundreds of investors were conned into purchasing phony contracts for precious metals." Matthew Lothian was sentenced to one year of prison plus probation and was fined $300,000 for his actions in the mid-'80s.
The candidate explained, "Before I met him he worked for a company, and it took the government about a decade to get to him." After they married she became a stay at home mom of three. "I gave birth to my second child alone," she said, pointing out that the tax liens were in her husband's name. She said she did not work for the company.
She stayed with him for twelve years after his conviction. Asked why, she said, "I married him because I loved him," adding that she considered divorce but had three young children to care for. "He is the most gentle person on earth. He got caught up so young, 23 years old, eager and ambitious."
In 1997 Superior Court records list her husband as a defendant in another fraud case, Travelmax International Inc et. al. vs. Alverson, about which Lothian said she knew nothing.
Lothian described her ex-husband as "a really great guy, well liked, super personality, a ton of friends. A really happy go lucky, good guy." She said "I saw it eat him alive and he almost died; he had a stroke and seizures. He's 48 and uses a walker now, handicapped and lives with his mother."  She explained that "eventually his depression and alcoholism was too much," so they divorced in 2002, after fifteen years of marriage.
"I've just forgotten about him. It's like a visiting uncle. I've gone through trials, lawyers, probation, and I just finally said I can't take any more."
She is proud of her ability to go to work to support herself and her children, and said she sold 100 homes to become the fourth ranking sales agent in the country for Help-U-Sell in her first year, and was the top grossing producer for 2007, 2008 and 2009 for Windermere.
Department of Real Estate records show Lothian's salesperson license was under conditional suspension for three months in 2004.  She said that's because continuing education papers were not returned on time because she mistakenly believed her employer would send in test results. Her license was later restored after she provided documentation, she added.
The Present
Late last month, the La Mesa Police Department was called to Lothian's home on Date Street twice in one evening. Around 8 o'clock a parent called with a tip that alcohol was being served to minors. When police arrived, Lothian's 19-year old daughter told them she was having a birthday party but no alcohol was going to be served. After receiving multiple calls from neighbors Police returned around 11:30 p.m. A written summary provided by La Mesa Police states that there were more than 100 teenagers and the lawn was strewn with Dixie cups that had been used for Jell-O shots. Lothian's daughter was charged under the City's Social Host Ordinance, was fined $330, and later spoke to the City's Youth Advisory Council.
Lothian said she knew the party was planned, but denied knowing that alcohol would be present. She said she had gone to the Gaslamp Quarter with her significant other that evening as her daughter's party was going to be "a sophisticated little party" with older colleagues from work. She says she did not know that one of her daughter's friends put the party on Facebook, and that her daughter was not drinking and did not know how to get the people to go home. Asked if she had ever allowed alcohol to be served to minors in her home, Lothian said she had not.
Also in July, Lothian's name and home appeared on a list of properties that the City Council was considering for liens due to unpaid sewer bills, however the bill was paid before the deadline and the lien was not filed. "It's never a money thing, it's a time thing. Anything that I can pay on-line is so much easier," Lothian explained.
Records at the San Diego Registrar of Voter indicate that Lothian voted in six of the last 17 elections for which she was eligible. In the June 6, 2010 primary election she was registered nonpartisan, but has been a registered Republican in the past.
Vision for the Future of La Mesa
"What motivated me to run was the growing observation of the disconnect between private and public," she said.
She read a letter to the editor in the Union-Tribune that said people were needed to run in La Mesa. "I'm sensing a giving up, you can't fight City Hall attitude. That's not us. I would enjoy being Mayor. I would be good at it, and at the end of the day it would be good for La Mesa."
Lothian has a vision for the Village, and has put a To Do list on her website.
"What I want to see is the experience where people come here to stroll, go into boutiques, come here for a nice meal, hear live music. It should have a sophisticated but historical feel to it," she said. While she cites the pleasant feel Little Italy downtown, she is against the type of Business Improvement District by which it is funded.
Foremost on her To Do list is to clean up the City. She is pursuing an "Adopt-a-Ramp" program with Caltrans, and says she would "send clean-up-your-property notices to irresponsible owners whose empty lots are eye sores. If the notices are ignored, La Mesa would clean the properties and bill the owners." She would also require that graffiti be removed or painted over within 48 hours.
She emphasizes the importance of filling commercial retail vacancies in the Village. "The Mayor's position is as an ambassador," she said, and continued, "I have been selling La Mesa for 8 years. I think that is part of the Mayor's job; I'd be a good PR person for La Mesa."
The candidate said she is a pro-business person who would ease regulations. She is critical of the City's Planning Department, and her website states, "When faced with unreasonable costs, planning, zoning and permit demands, people give up. Businesses don't open, remodels don't happen and the hand that feeds us is thoroughly bitten."
She wants to see the Village "dazzle with parking meter funds." She says she would "declare a state of urgency" in order to use parking meter money for "the conspicuous beautification of the La Mesa Village" with flowers, and criticized using all the funds on infrastructure.
Asked about height limit exemptions, she said, "Every project has to be taken on its own merit; it has to be something good for La Mesa." She expressed concern, however, that very tall buildings, if converted to affordable housing, could potentially become blights that could "hurt property values in La Mesa."
Lothian wants all city official's wages, benefits and pensions to be easily accessed on the City's website. Her own website states, "When city hall asks for more money using fear of services ending, police protection diminishing, fires going unanswered and cities going broke, informed citizens will demand cuts in overly-generous pay, benefits and pension plans before cuts to vital services.
The final item on her To Do list is to impose term limits.
"If I can tackle all of those items in four years, La Mesa will be a better place for it," Lothian confirmed.
For more information, visit her website here.
 
For more stories in our La Mesa Spotlight series, see:
La Mesa Spotlight Part II: Incumbent Councilman Ernest Ewin
La Mesa Spotlight Part III: Incumbent Mayor Art Madrid

La Mesa Spotlight Part IV: City Council Candidate Patrick Dean
La Mesa Spotlight Part V: City Council Candidate Ian Shiff
La Mesa Spotlight Part VI: Incumbent Councilman Mark Arapostathis
La Mesa Spotlight Part VII: City Council Candidate Kevin Rynearson