Printer-friendly version
Story and photos by Sharon A. Penny
December 1, 2013 (El Cajon)--Thomas Weller of El Cajon has had stories printed throughout the nation about his acts of kindness (by CBS News, The LA Times, People Magazine and NPR, among others), as well as international publications. Yet this East County man remains humble and steadfast in his pursuit of paying it forward.
Weller, known as the San Diego Highwayman (www.sandiegohighwayman.com) has been helping distressed motorists for almost 50 years. He never accepts payment for his kind gestures – which include providing gas for empty tanks to replacing batteries to fixing flats. Instead, he hands each motorist a card with the following inscription:
"Assisting you has been my pleasure. I ask for no payment other than for you to pass on the favor by helping someone in distress that you may encounter."
These words were spoken to Weller when he was a teenager in Illinois.
"When I was 16, being a normal teenage boy, I was out chasing girls in my old black and white cruiser during a snowstorm. I lost control and ran into a snow bank," he said. "The only thing visible was the black trunk of my car sticking out. A kindly gentleman found me after several hours and rescued me – I'm convinced he saved my life. When I offered to pay him, he said those words that I now have printed on my card."
Weller explained it took him two more years to mature and truly grasp the meaning of paying it forward. By that time, he had moved to San Diego and graduated from Point Loma High School. At the ripe old age of 18, he began his quest to help motorists in distress and show kindness to strangers.
Beulah and Shela
For decades, Weller drove a Ghostbusters-inspired car, which he named Beulah, chosen from the book Code Three that he had read as a teenager.  Weller's Beulah was a mixture of many makes, models and years of vehicles. The main body was a 1955 Ford Country sedan, with a 1956 Crown Victoria front metal clip. Sadly, Beulah was "killed," as Weller puts it, when he was side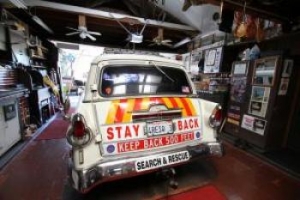 swiped by a car in August 2011.
The car was totaled, and he now drives a former 1956 Mercury ambulance conversion. Although it is not Beulah, it distinguishes him from any other search and rescue vehicle on the road. 
During the past 10 years, Weller's partner in his Good Samaritan work has been Shela, his faithful border collie/lab mix. She loves riding shotgun in his customized rescue wagon.
A mechanic by trade, now retired, Weller put his skills to good use, but more importantly, he continues to restore faith in humanity for some those who remain skeptical.
"I stopped to help one guy who was very leery and disbelieving that I just wanted to help him," he explained. "He turned out to be a TSA agent, so he often saw the worst in many people. It wasn't until I finished and headed out to leave that he finally got it. This very tentative, suspicious man suddenly turned animated and thanked me. I told him to pass it on."
He's had a few other people who were disbelieving of his kindness, especially women alone. He explained that he never imposes himself on anyone. Instead, he'll move along out of the way, but within watching distance to make sure that the person is safe with other help before he leaves.
The majority of people he encounters, however, are grateful, surprised and pleased to repeat random acts of kindness for his good-hearted deed.  He
estimates that he has helped more than 5,000 people.
"I've met so many great people. One family from San Jose stands out. They were visiting San Diego during a Fourth of July weekend when their alternator gave out. I lent them my booster battery to make it back to their hotel. Because they were from out of town and most repair shops were closed for the holiday, I knew they were going to have a hard time getting their alternator fixed.  So I gave them my address to stop by before they went home. I installed their freshly charged battery and provided them with a second battery for their vehicle. I knew they could make it home on that and deal with the alternator in San Jose."
Weller explained the reason they stood out was the lovely thank you note/drawing he received from their young daughter, Whitney.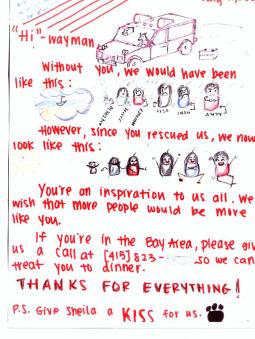 "She drew a car battery and my rescue mobile with Shela in the driver's seat, which is where Shela thinks she belongs," he laughed. "It's my favorite thank you ever."
Weller still gets in his rescue mobile with Shela almost every day – often seven days a week. A local college student, Sarah Brown, is currently making a documentary film about him that should be released in early 2014.
"As long as I'm able, I will continue to do this," he said. "I'll be 66 on Christmas day, but I still get as much joy from this as I did when I began it in 1966."