Printer-friendly version




Creative East County Wedding Venues For Your Dream Ceremony
 By Richard Darvas

 
May 9, 2010 (San Diego's East County) -- How many childhood fantasies stretch into adulthood, relatively unchanged? For many, wedding day is the holy grail of making dreams come true. Yet how many couples opt for a trendy wedding replete with clichés and high-dollar kitsch, only to later regret not choosing to stroll down an unbeaten aisle?  
Romance is not manufactured, nor delivered via assembly line. For memories you'll treasure for a lifetime, why not select an idyllic setting that isn't cookie cutter? Many betrothed couples are unaware of the serene mountain retreats, lush wineries, country ranches and exotic savannahs in San Diego's eastern region. Whether your heart's desire is a grand affair or an intimate occasion, you'll find a wealth of unique venues for your dream ceremony in East County.
Here are our picks for East County's most romantic wedding venues:
Angels Landing Country Inn: Choose a love nest cradled in Julian's mountains for an unforgettable wedding destination. A stone staircase conveys the bride to a meadow's arch, where loved ones and friends await you in a picturesque setting. Whether you prefer an intimate or gala occasion, your options include photogenic gardens, Victorian streetlights and sparkling white lights, butterfly or dove releases, and  menus to satisfy your heart's desire. Theme weddings from old-west to Renaissance period styles can also be reserved.  Indoor weddings can be held in the Lilac Room, where a toasty stone fireplace and heated veranda create a quaint ambiance year-round. Complete wedding services include catering and lodging. Call for quotes on smaller affairs; online pricing for larger parties can be found at: www.angelslandingcountryinn.com.

 
Barona Resort & Casino: Offering all the amenities of a resort spa including golf and gaming, this Lakeside escape offers unique wedding accommodations. A Victorian-inspired wedding chapel promises to enhance an indoor ceremony with romance and intimacy for up to 70 guests. Larger parties may prefer an outdoor setting. Outdoor weddings are held in scenic Lake Terrace within an idyllic valley. A professional staff is on hand to handle every detail. The Ambience Day Spa offers complete wedding packages for the bride and her entourage, while the Barona Hotel also offers "romance" packages. Contact info can be found online: www.barona.com.
Bernardo Winery: One of our county's best-kept secrets, Bernardo Winery's fertile vineyards were established in 1889 by five Sicilian partners, making it the oldest winery in southern California. Weddings are performed in Rosario Pavilion, an expansive garden venue with softly lit olive trees. Attendance can range from 25 to 225 without sacrificing intimacy. Fine dining is available in Café Merlot. Guests may also partake of private wine tours and tastings, or stroll through Old World-style shops in an Italian-themed village in this historic Rancho Bernardo setting. Additional information and pricing may be found online: www.bernardowinery.com.
Carmel Mountain Ranch Country Club: An enclosed gazebo rests on a hilltop that commands 360-degree views of manicured championship golf courses and outlying mountains. This serene locale is tailor-made for a magical wedding ceremony. Three wedding packages along a sliding scale present an array of choices such as custom-tiered wedding cake, hardwood dance floor, hosted bar service, gourmet dining in clubhouse or Chandelier Room, and much more. Mark Kim, the country club's event coordinator, puts things in perspective. "Now that you have the perfect diamond, you'll need that perfect setting." More detailed information can be found online: www.clubcmr.com.

 
Cottonwood Golf Club: Say "I do" at a garden ceremony surrounded by lush fairways and cottonwood trees at Cottonwood Golf Club. Nestled in the rolling hills of Rancho San Diego, Cottonwood's wedding ceremony site has seating capacity for more than 300 people. Arbors, runners, lighting and sound equipment are available to enhance your special day. The facility also has a white tented pavilion on the green just steps away, so your guests won't have to go far to help you celebrate. www.cottonwoodgolfclub.com.
Harrah's Rincon Hotel & Casino: Oddsmakers agree that a poolside luau is a sure thing for an enchanted wedding ceremony. "Whether it's a casual gathering for ten or a formal affair for 600, we'll take care of all of the details," pledges John Goldsmith, sales director. "We can arrange everything from pampering at the spa before the big day to a romantic honeymoon suite after the big 'I do.'  A sophisticated dinner menu offers an array of gourmet riches. Oyster linen, votive candles on every table and a wireless or lavaliere microphone are among your reception options. A minimum of 150 guests is required for the ceremony and reception. Same-sex commitment ceremonies are also available. You can even opt for a "Weekend in Vegas" complete with antique pink Cadillac and celebrity impersonator officiants.  Complete pricing and booking information can be found online: www.harrahsrincon.com.

 
Hazy Meadow Ranch: Lakeside's El Monte River Valley is an idyllic out-of-the-way locale for a fairy-tale country or western-themed wedding. After the bride has the finishing touches put on a gorgeous look in the Bride's Room, she'll pass an exquisite stained glass window as she descends stairs into an arbor. A white horse drawn carriage waits at the end of a winding brick path. On the ride, views of an orchard and mountains give way to a magnificent gazebo.  Meanwhile, the Groom's Room comes appointed with not only a pool table, but a gaming table with roulette, blackjack and craps games. Wedding coordination and catering services are available. More information and contact info can be found online: www.hazymeadow.com.
Mt. Helix Park: A San Diego landmark for decades, this mountaintop haven affords lofty views of mountains to the east, Point Loma and the Pacific Ocean to the west. A choice of stage or towering cross area is available for every ceremony. The Park's executive director describes the uncommon vantage point. "The awe-inspiring views and an amphitheater that can seat up to 1,000 offer a natural setting like no other." Four packages are available: Nature, Mt. Helix Basic , Mt. Helix Deluxe, and the Crown Jewel Package. Depending on the package, staff attendant(s), a parking lot attendant and usage, professional shuttle and driver, an aisle runner, and a wedding arch may all be ordered. To safeguard privacy, the park may  be closed to all traffic not associated with the wedding. For pricing and details, see: www.mthelixpark.org.
Orfila Vineyards & Winery: An award-winning boutique winery and vineyard estate in Escondido, this lush Shangri-la occupies land admired as one of the best grape-growing regions in California. The hilltop vineyard ceremony area is crowned by a luxurious tent pavilion. Linda Kissam, the winery's media director, outlines why this estate is one-of-a-kind. "Orfila features several unique settings for an unforgettable wedding, including our beautifully manicured lawns overlooking the pristine San Pasqual Valley agricultural preserve, the stunning rose garden, or our romantic grape arbor."  In addition, an in-house event coordinator takes a personal interest in the bride's concerns and desires. Rental and beverage services, as well as caterer referrals, are available upon request. Incidentally, trellises inside the grape arbor are adorned with 30-year-old vines. Further information can be found online: www.orfila.com.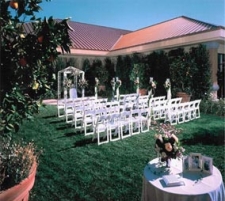 Pala Casino Spa & Resort: Tucked into the Palomar Mountain range, this four-diamond resort provides a host of services from floral arrangements and entertainment to bridal showers and special room rates. Chefs will craft a menu to your special wants, with table-side service or buffet-style dining available. Lovely gardens fringe a gazebo in an outdoor location that may accommodate up to 500 guests. Pala Bakery can design your cake as well.  Alonzo DiCarlo, director of sales and catering, emphasizes what makes Pala special. "Pala Casino Spa and Resort has beautifully manicured grounds, with breathtaking mountain views and award-winning service that ensures your wedding day will be just as breathtaking." Contact information can be found online: www.palacasino.com.

 
Pine Hills Lodge: Near Julian, this rustic wooded hideaway boasts towering pine trees, spectacular views of a star-filled night sky and snug cabins protected from snowfall outdoors.  Guests will adore the woodland seclusion and tranquility of the site, located on eight acres at 4,000 feet in elevation. It is the "only venue of its kind in all of San Diego County," enthuses the lodge's proprietor, Hanna Sheldon. On the wedding day, the bride and groom opting for an outdoor ceremony are whisked to an arbor by horse and buggy. After the ceremony, a tri-level cedar deck is the festive place for dining, dancing and merrymaking. During an indoor event, couples may exchange vows before a Grand Fireplace before a sumptuous dinner in a rustic yet elegant log dining room. Nightcaps will soon follow. Newlyweds may also reserve a Honeymoon Cabin with porch that overlooks the Pine Hills. Contact info may be found online: www.pinehillslodge.com.
Rancho Bernardo Inn Golf Resort & Spa: A true getaway for lovebirds, this acclaimed resort is the place for an opulent ceremony. At Aragon Lawn, flower petals precede bride and groom to the altar in the historic grounds of a garden enclave. Once hitched, reconvene with friends and family to the plush Aragon Ballroom. Recently renovated to the tune of $25 million, extraordinary property occupies over 10,000 square feet.  Start to finish, a Catering Specialist can customize your wedding experience to surpass every expectation. Floral, photography, music, and even transportation referrals have been handpicked from only the most trusted vendors. A nearly endless menu is assured to please any palate. Need an ice sculpture, for instance? Look no further. View a web commercial and peruse pricing and other information online: www.ranchobernardoinn.com.
San Diego Wild Animal Park: When wedding day marks the start of a lifelong adventure, this venue complements those bold of spirit. As the couple takes their vows, the list of exotic witnesses on the Heart of Africa savannah includes giraffes, rhinos and gazelles. Or if a tropical setting is preferable, the ceremony may be held near at Lagoon Overlook, which is surrounded by rare birds ready to serenade the wedding party.  Custom florals, animal-print linens and a refined menu are among a handful of services offered. After the knot is officially tied, celebrants are lured into the Hunte Nairobi Pavilion or Mombasa Island Pavilion to hoot, chirp and roar their congratulations during an al fresco soirée. If these options are too tame, partygoers may discover their wild streaks at the Zoofari Party Area. More information and pricing contacts may be found online: www.sandiegozoo.org.

 
Santee Lakes: Showcasing the raw beauty of a 190-acre nature preserve, this lakeside rendezvous invites the bride and groom to recite their vows in a gazebo under a white tent, near the cool shade of sycamore trees ideal for dancing the afternoon away. Select an inland island to say "I do," or choose from 17 other family-friendly sites. Pricing can be found online: www.santeelakes.com.

 
Summers Past Farms: Wreathe your lives together in a fragrant garden of Flinn Springs. Outdoor ceremonies may be held in a choice of multiple garden areas. The site includes five acres of flowering blooms, exuding the charm of an English country garden complete with white picket fences and arbors. Summers Past also includes an herbal-soap shop, country gift shop, outdoor coffee bar and patio, and in spring, a sweet pea maze. Fee is $400; a 50% security deposit is due upon reservation: www.summerspastfarms.com.

 
Sycuan Resort: An all-inclusive wedding experience awaits couples at one of El Cajon's premier hotspots.  A traditional outdoor occasion features banquet areas and a white gazebo decked in fresh flowers. Private dining and banquet menus offer a dizzying assortment of gourmet items. Event staff tailor your package according to your specific tastes, with services ranging from from decorative linens and a champagne toast to buffet or plated dinner service and bar service. A shuttle can transport family and friends to Sycuan Casino to celebrate the love of the moonstruck newlyweds. Entertainment is everywhere. Honeymooning couples can also savor accommodations complete with championship golf course views, pools, and Primrose Spa.  For booking information, see: www.sycuanresort.com.

 
Getting Hitched in East County is the first in a series of articles on weddings in San Diego's eastern region. For information on advertising in our weddings section and a new weddings resource section, contact ads@eastcountymagazine.org or call (619)698-7617.
Know of an ideal wedding site east of I-15 that we may have missed? Please post in the comments section below.