Printer-friendly version
By Miriam Raftery, Editor
July 27, 2012 (San Diego's East County)--Standing on a former mountaintop blasted away to build the new Suncrest Substation, Governor Jerry Brown yesterday  praised completion of  the 117-mile Sunrise Powerlink high voltage lines—and denigrated 79,000 citizens who have fought against destroying our communities and scenic vistas.
"You have to crush the opposition,"  the Governor said forcefully, after joking that there were more dignitaries inside the celebration than people protesting down the street.
His words are unbecoming of our state's highest official and an insult to the hard-working people of our region, most of whom couldn't afford to take off work and attend a protest rally during the work day in this remote spot.  But their concerns are valid, heartfelt and deserve serious consideration, not hate or derision.
Let me tell you about some of those people our Governor wants to "crush."
Ima Jean Walker lives in Ocotillo, where the desert is being bulldozed for an industrial wind project that SDG&E  intends to hook up to Sunrise Powerlink.  She has a message for the Governor: "Shame on you!"
Homes in her community had their streets and front yards flooded this month with a white, foamy chemical after the wind developer rechanneled floodwaters straight through their town. (photo, right) No cleanup has been done.  Residents fear that sludge floating in flooded turbine foundation holes may contaminate the aquifer below, their town's only source of drinking water.
If the five lawsuits seeking to halt the project don't succeed, homes will be surrounded on three sides by giant turbines 450 feet tall—higher than the Washington Monument—each with blade spans the size of a football field, just 1500 feet from the nearest homes.  Neighbors of wind facilities in many other places have developed headaches, heart palpitations, ear pain and other health problems. 
Seated in the front row of the "celebration," my head began to ache and my heart was palpitating, the same as when I've been near other sections of the new power line that were sizzling and popping with dirty energy, or with what an SDG&E executive termed the "sound of success."  I had to move to the back of the gathering.  I pity the poor residents who cannot move away.
In Campo, the Manzanita Indian tribal members have been accepted into a university health study after reporting many health problems that a medical expert believes are caused by the wind facility nearby.  An epidemiologist measured stray voltage/ground currents/dirty energy 1,000 times normal in their tribal hall and church—yet the wind "farm" owner refuses to correct this dangerous situation---and now wants to triple the size of the wind facility with turbines twice as tall.
"I live on Star Valley Road in Alpine, and they destroyed my road with those ugly towers," says Mike Milligan.  Another Alpine resident, Lou Russo, used to enjoy views of Bell Bluff –until SDG&E blew up the mountain behind the home he purchased for the view to build their new substation.
Mark Ostrander (left) is a retired Cal Fire Battalion Chief. He has warned that Powerlink and other big energy projects in this tinder-dry region pose grave fire dangers.
 Already, wildfires caused by SDG&E powerlines have burned thousands of homes and forced half a million people to evacuate in 2007. SDG&E refused to pay fire survivors and now wants ratepayers to foot the bill for its uninsured liability. Worse, they fear more fires, since the Environmental Impact Statement found that Sunrise Powerlink is a "severe and unmitigatable fire hazard."
Ostrander lives in Jacumba, where a wind power facility and two industrial-scale solar farms are proposed to be built on thousands of acres of land. High voltage power lines and a substation have also been approved for his area—and  more are on the drawing board. 
He is not against green energy.  In fact, he produces all the electricity needed for his own home with a solar panel and a small 30-toot-high vertical axis wind turbine. But he loathes the environmental destruction and threats to community character--and fears spikes from wind will make the power grid unreliable.
Most of all, he fears for the future of his small town, founded by pioneers and later, a haven for Hollywood movie stars with a hot springs hotel resort that has since burned down.   A new freeway that diverted traffic away from Jacumba "almost killed the town," Ostrander says.  But recently, the area has begun to attract artists and a local buyer who purchased the downtown with high hopes and big dreams.  "We're trying to revitalize our town, but the only thing we have is tourism," Ostrander muses—but fears that industrialization like the Governor envisions for this sleepy community will crush the town's  rustic character and its inhabitants' spirit.
Diane Richards lives in Campo, where a wind farm blew apart in a storm in 2009. Every blade on every turbine had to be replaced.  The facility was off-line for three months.  Broken blades whirled off, hurling chunks far and wide. Each blade weighs several tons. Litter remains years later (photo, right). Just how reliable is this power?
Richards questions the need for more wind.  She believes rates will be raised—and she is irate about the "lavish parties" thrown by SDG&E, whose CEO bragged about the company's healthy increase in its stock prices. Meanwhile, inside the event, hundreds of guests dined on pasta, steak and petit fours.
Elena Arrowweed,  a Quechan Indian, came all the way from Fort Yuma, Arizona, to protest the Governor's appearance. 
"This is not green.  It's destroying public land," she said of the giant-scale wind, desert solar, and transmission projects scraping bare the land.  Wind turbine excavations at one desert site in Ocotillo are each 238 feet in diameter, removing soil eight feet deep. 
The Quechan tribe is suing to halt the desecration of their ancestors' graves at Ocotillo, known as the "Valley of the Dead" to tribes in the region.  They hired forensic dogs trained to find ancient human remains. But even after the dogs located some 50 sites, the government and the developer refuse to stop the proj
ect, which also blocks views of mountains so sacred that they are considered the creation site in Quechan religious beliefs.
Elena's husband, Preston Arrowweed, has long been a leader in efforts to protect Native American cultural resource sites.  "I am following my tribal songs," he said Preston, who also brought his son, Christian Lopez (photo, left).  "We tell our history through our songs…this is my area, too."  He wants to see more tribes file legal actions to stop what he believes is the desecration of his ancestors and the destruction of sacred and ceremonial sites used to this day as tribal elders pass on their ancient songs and heritage to tribal youths.
He added that Quechan is readying a new lawsuit.  "Every tribe should file suits," he said.  "If enough did, we would stop this."
Charlie Brown is a brave man. He used to jump out of airplanes to fight fires for the U.S. Forest Service.  But at a meeting of Imperial Valley Supervisors, the Viejas tribal elder wept at the podium, shedding tears of anguish over the prospect of seeing 12,500 acres here destroyed. (photo, right) Supervisors ignored his pleas and those of all opponents present, voting to approve the project.
Milt Cyphert owns a heating and air conditioning business. He and his wife, Laura, an accountant, bought their home in Lakeside's El Monte Valley to savor breathtaking views of El Cajon Mountain, called El Capitan locally because of its resemblance to the landmark in Yosemite Valley.
 SDG&E never notified Lakeside residents or planners when it changed the route for Powerlink to run it through Lakeside.   Residents  in Lakeside never knew  Powerlink was slated for their area until after the California Public Utilities approved the project in this fire-prone valley with one-way in, one-way out.  The Fire Chief was outraged at this lack of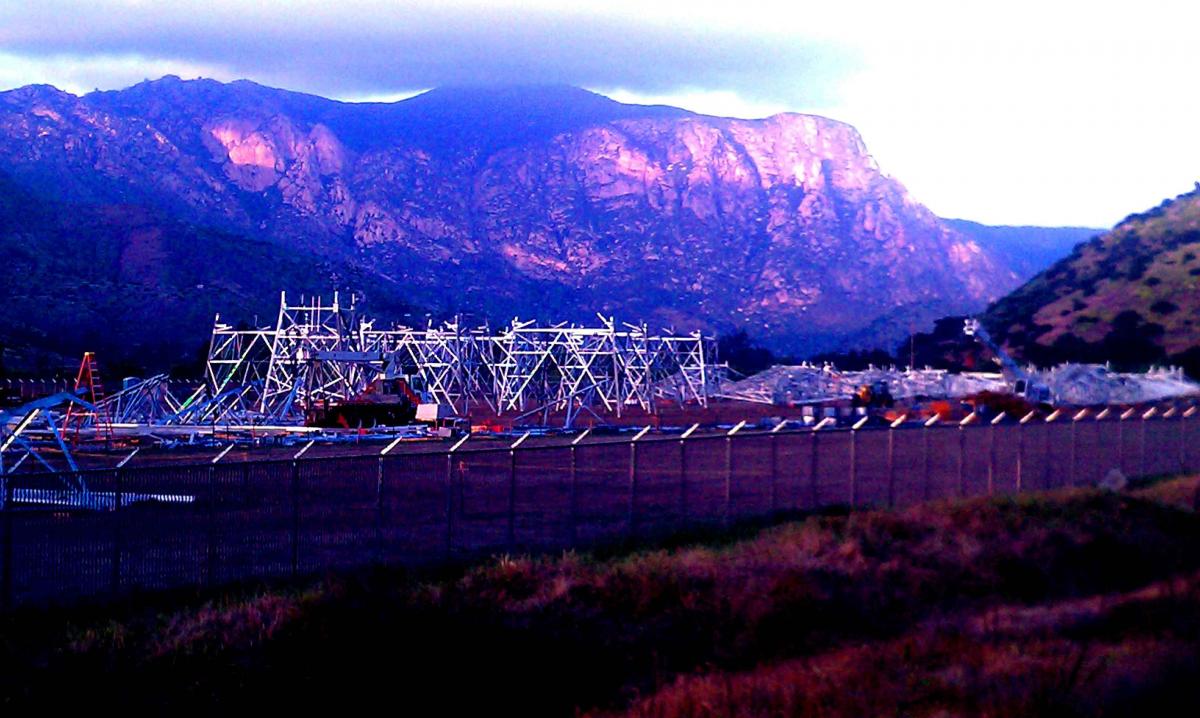 notification and said power lines would impede firefighting in the air and on the ground, putting homes and lives at risk. The Cypherts, who lost their home in the 2003 Cedar Fire, are terrified that history may repeat itself.
The utility paid a $1.5 million dollar fine for this notification "oversight"—then proceeded to erect gleaming towers across the face of the mountain in what was supposed to be a county protected scenic view corridor. (photo, left)
Jim Pelley is an engineer.  He's been awakened by construction crews shining lights into his bedroom windows at 4:30 a.m. as they race to beat the intense heat and finish the project in time to pocket federal subsidies before they expire at year's end.  Jim did his homework and learned that the project fails to meet the minimum wind speeds required by the U.S. Department of Energy to be considered viable wind projects. So why was this approved on our public land, paid for largely with our tax dollars?
Next up, beautiful McCain Valley in San Diego's East County is slated to become Tule Wind energy facility, with over 100 towering turbines and high-voltage power lines.  Located on Bureau of Land Management public property, it is a favorite for campers and hikers, gateway to two federal wilderness lands and the magnificent Carrizo Gorge.  (photo, right) It is also cherished by Native Americans and by people throughout our region who love the rugged beauty of this boulder-strewn natural wonderland.  
None of this is necessary.  Here in San Diego and Imperial Counties, the sunniest areas in the nation, we could meet our power needs primarily with rooftop and parking lot solar.  Local engineers with utility-scale energy experience have run the calculations—and due to the falling price of solar, it is more cost effective than squandering our tax dollars on subsidizing industrial-scale wind energy.  That's why the San Diego Local Energy Cooperative has been formed to offer people here clean alternatives that don't destroy our communities.
The large energy companies are  predatory.  Most are now owned by big oil companies and like the oil wildcatters of yore, they divide and conquer small towns, targeting low-income communities where they gamble that no one will have the know-how, connections or deep pockets needed to defeat these monster projects. Those that can't be bought off are marginalized and denigrated , called "NIMBYs" no matter how serious their concerns. Why shouldn't people have a say-so in what goes in their own backyards?  How many of these
politicians supporting industrial energy projects have to actually live next tot hem?
Isn't it ironic that the same people who lambast coal companies for blowing up 500 mountaintops in Appalachia now think it's just fine to blow up mountains here, because it feeds the energy industry's definition of "green."
It doesn't fit mine.  And it shouldn't fit yours. This is unnecessary devastation of wild and scenic areas and the utter destruction of rural communities' character. 
Our wildlife is also threatened.  Wind turbines have killed thousands of eagles at Altamont alone, and many more around the world (photo, left). We only have 47 pairs of nesting gold eagles, and a handful of bald eagles. Will they be shredded by the turbine blades? 
Our endangered bighorn sheep habitat has been fragmented by these big energy projects.  Recently,  a photographer sent photos of endangered bighorn on the site of a proposed wind farm—but instead of protecting these majestic animals, Secretary Salazar issued a take permit allowing lambs and ewes to be killed.
Sadly, San Diego's East County has also lost far too many of our beautiful undeveloped lands.  Those wildfires burned over 99% of the pine forests in Rancho Cuyamaca State Park, the only major pine forest on public lands in our region. 
Hasn't our region suffered enough—and shouldn't our remaining wild lands be preserved?
This may be coming soon to you—since 40 million acres of federal land alone are considered prime territory for development of industrial wind and large-scale desert solar projects.  There are also many proposed on state and private lands. The photo, right, shows a single turbine foundation dwarfing mountains behind on BLM public land.
New fast-tracking procedures have deprived the people of their voice.  One Indian tribal attorney told me they got hundreds of pages of revisions to a major wind project just one hour before a final hearing. Others had only 30 days to comment on a 5,000 page EIR. How is that fair? It's not.  And when comments were made, they were mostly ignored by federal regulators ordered on high to ram through these projects at all costs—direct from Secretary of the Interior Ken Salazar.
Don't believe it?  At the SDG&E festivities, Jim Kenna from the Bureau of Land Management said that he and Secretary Salazar are "all about a new energy frontier for America – and it can happen."
Inside the celebration for the new substation, a video set to upbeat music glorified the destruction of our region, showing boulders blasted and an entire mountaintop vanishing.  For SDG&E and its supporters, the scene was cause for celebration. 
But for the tens of thousands of local residents who don't want to see what's left of our mountains, deserts, and rural regions become sacrificial energy zones, the vision brings only sorrow, anger, and a feeling of betrayal.
The dignitaries smiled broadly as they joined together to symbolically energize the line (photo, right).
Governor Brown was joined onstage by his predecessor, former Governor Arnold Schwarzenegger.  It was tough to tell the real "Terminator" with all that tough talk.
Our current Governor, far from representing the people, sounded like a schoolyard bully.
A photographer today said he voted for Jerry Brown 14 times. He was sickened by his words. He turned to me and asked, "Whatever happened to Governor Moonbeam? The old Jerry Brown would have grabbed a sleeping bag and gone out to Ocotillo to join the people in their protest." 
This man will not be crushed—except perhaps by a bulldozer.  He says he is prepared to stand in front of one, if no judge or government official will do the right thing and save Ocotillo. 
My degree is in Environmental Studies. I am a national award winning journalist.  The Governor's goals of stopping climate change and shifting to clean, renewable energy are lofty—the grand vision we all shared back in the '70s. Bt as we learned with nuclear when it was pitched as the end-all solution to the oil crisis back then, industrial-scale energy development is not the right solution.
Distributed generation, using sunshine to produce power on our rooftops and parking lots, along with individual-sized wind generators, is the solution. Empower the people  to do this-don't browbeat them into submitting to the same oil companies you once so despised.  Yes, Governor, the big wind companies coming to our region are all owned by big oil companies. 
Who was conspicuously absent at this love-fest for  the industrial power substation? Our Democratic Congressman, Bob Filner, who calls this project "Sunrise Deathlink."  East County's Supervisor, Republican Dianne Jacob, who has fought tirelessly trying to stop the Sunrise Powerlink and believes it is a massive fire hazard. The leaders of our region's 19 Native American tribes, who cherish the earth and have been its wise stewards for 10,000 years.  Also missing were the 79,000 people represented in the Save Our Communities Foundation, a nonprofit  formed to fight this project.
Governor Brown, with your callous words you have crushed the spirit of our region and our people. You have heeded the siren's call of corporate energy lobbyists who appealed to your altruistic vision of freeing American from the clutches of dirty coal and oil. But instead of embracing local power generation on our roofs and parking lots, you have sanctioned the devastation of people's homes, lives, and our irreplaceable wilderness places.
There is a better way. Learn about the viable, cheaper and greener alternatives such as those proposed by the San Diego Local Energy Cooperative. Remove roadblocks thrown up by some local governments that block rooftop solar and enrich corporations. 
Finally, If you truly care about doing what is right, I urge you to come here and meet with the people you seek to "crush."  Hear their stories.  Visit their homes.  See what's at stake.  Find your heart—and listen to the people represent--not the energy moguls driven  by the "green" color of money they  make for shareholders by destroying places cherished by thousands in our region.
Miriam Raftery is a national award-winning journalist and the founder of the nonprofit news site www.EastCountyMagazine.org. She has been awarded the American Society of Journalists & Authors national Arlene Award for community journalism, best investigative reporting awards from San Diego Press Club and Society of Professional Journalists San Diego,  SDP's Best of Show Award, and SPJ-SD's James Julian Memorial Award for community reporting.  She holds a B.A. in Environmental Studies from the University of California, Santa Barbara. Her reporting on wind energy issues has also earned her an environmental reporting award from SPJ-SD.  East County Magazine, founded by Raftery, has won dozens of top journalism awards and was named best general interest website in San Diego County in 2009 by the San Diego Press Club. The website, among the most widely read news sites in San Diego, averages 5 million hits and 50,000 to 100,000 unique visitors each month.