Printer-friendly version
By Miriam Raftery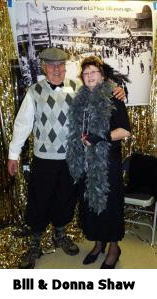 January 13, 2013 (La Mesa) – Capping off a year of centennial celebrations, La Mesa hosted its "Party of the Century" last night.  Held at the La Mesa Community Center, the event featured music through the decades and areas decorated to reflect the many colorful eras in La Mesa's past.
Dignitaries past and present turned out.  Many guests came in period attire, adding to the festive mood at this memorable occasion.
"This is the party of the century," Mayor Art Madrid, dressed in cowboy attire, declared.  "It's been two years in the planning."  He praised the efforts of all who helped create the event coordinated by co-chairs Linda Horrell and JoAnn Knutson.
Getting into the spirit of the occasion, Horrell and her dapperly attired husband, Steve, came dressed in early 1900s garb.  Knutson chose '60s attire.
Madrid delivered his remarks in a tent set up outside the community
member, where Legacy sponsors sipped wine provided by San Pasqual Winery and check out prizes.
Congresswoman Susan Davis attended, wearing a suffragist costume emblazoned with a "We want the vote" banner. 
Other dignitaries present included members of the La Mesa City Council and former La Mesa Mayor George Bailey, now 91.   
Chancellor Cindy Miles with the Grossmont-Cuyamaca Community College district was there, along with members from the Grossmont Healthcare District board and other local elected bodies.   
Tribal representatives also turned out and local Native American tribes helped to sponsor the event, including Viejas, Barona and Sycuan.
"I've lived in La Mesa since 1962," said Lee Knutson, a retired city attorney.  La Mesa's Police Chief Ed Aceves was also on hand.
So was Mary England, president of the La Mesa Chamber of Commerce, and many local business leaders, merchants and their families.
Gallery owner Shannon O'Dunn struck a vampish pose in her flapper dress, while Christmas in the Village chairman John Vigil wore a collection of commemorative pins
For many attendees, the event brought back  fond memories.  El Cajon Councilman Bob McClellan, whose father founded McClellan Buick in La Mesa recalled, "I remember back in the '40s, our father used to serve Tom and Jerry's ice cream on the sidewalk on Palm Avenue."
Johnny Orkutt and Geralyn Orkutt from the San Diego Swing Cats, dressed in roaring '20s attire, did some dazzling moves on the dance floor along with Judy Bishop and Doug Nolff who showed off  steps ranging from '50s swing to disco dancing.    
View dance videos:  http://www.youtube.com/watch?v=YEjo776I5nQ and http://www.youtube.com/my_videos_edit?video_id=ol7hOTOcMSo&ns=1.
Gary Burt crooned Frank Sinatra tunes to greet visitors outside. Indoors,  musical groups played everything from classic rock to big band.
Some reminisced about bygone eras, here and in places far away.
In a room decorated to evoke the ambience of a World War II bunker, World War II veteran Robert Yanea reminisced about his service with the 7th Division, 31st infantry at Okinawa on April 5, 1945. 
Marines had cleared the beaches, but his division came under fire from snipers strapped onto palm trees, he recalled. "It took us 32 days," he said of the battle. "We found a tunnel a mile long; in there they had a hospital and officers' quarters….I was just 19 years old."  He  suffered shrapnel injuries and later caught malaria in the Philippines, where he was packed in ice to reduce a fever of 106.
Chelle Yale and Maryann Aleavelle from the La Mesa Women's Club came dressed in vintage aviators' garb from family members, pausing to pose outside a vintage car at the event's entry.  "I've lived in LA mesa and loved it here my whole life," Aleavelle said. 
Beth Morgante, Grossmont Hospital Foundation, came clad in '60s peacenik attire. "I'm a hippie from way back," she quipped.
Carole Wilson, chair of the board of trustees at the Central Congregational Church in La Mesa, wore her mother's vintage dress circa the 1930s-40s era.  Her husband, Jay Wilson, head of the Mission Trails Regional Park Foundation, joined her at the soiree.
Bill and Donna Shaw manned a photo area where guests posed for pictures in front a historic photo of La Mesa.   Guests also took home souvenir centennial wine glasses and had opportunities to buy tickets for prize drawings ranging from vintage signs and costumes to sports memorabilia and a Barona resort vacation.
The celebration caps off a year of centennial activities that has included showings of silent movies filmed locally, an exhibit of historical photos in several locations, a roll-out celebration at the Trolley station, and a Helix-Grossmont football game with players wearing retro jerseys.
Funds from the event will benefit La Mesa's Legacy project, to be installed at the intersection of La Mesa Boulevard and Alison Avenue. The winning entry in the competition will feature the centennial logo, mosaic tiles and a playful sculpture of a European snail species discovered her in 1872,  Helix aspersa, for which Mount Helix was named. A prototype was unveiled at last night's event.
Names of those who contributed to the Legacy project will also be displayed for prosperity and a time capsule will be buried for future generations of La Mesa residents to reveal.