Printer-friendly version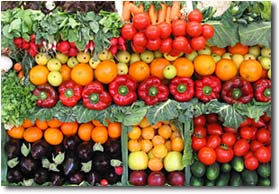 By Miriam Raftery
Update November 10, 2011--County Supervisors voted 4-0 yesterday to ask the Farm Bureau to craft a proposed solution within 90 days. Supervisor Bill Horn, an organic farmer, abstained.
November 3, 2011 (San Diego) - -County Supervisors appear to be backing off a proposal to declare eye gnats a vector.  The vector proposal, on the agenda for November 9, would allow the County to order chemical spraying for eye gnats similar to programs used to control mosquitoes. A vector declaration is sought by neighbors plagued by the insects near two organic farms, but is opposed by growers including the San Diego County Farm Bureau.
The vector plan was proposed in response to residents' complaints of eye gnat infestations in Jacumba and Escondido and is listed on the November 9 agenda. (See ECM's  past coverage on Jacumba's issues: http://www.eastcountymagazine.org/node/7275 and http://www.eastcountymagazine.org/node/7208).
But after organic farmers and their customers flooded supervisors with hundreds of complaints that spraying would force organic farms out of business countwide, Supervisors Dianne Jacob and Pam Slater-Price are now backing a more moderate plan, the San Diego Farm Bureau's executive director Eric Larson told ECM.
"This measure…most likely will end all organic farming in the county of San Diego," Bill Brammer, owner of the Be Wise Ranch in San Pasqual Valley said of the original vector proposal.
Be Wise supplies organic produce to Whole Foods Markets nationwide as well as to local stores and restaurants. In addition, the farm supports about 2,500 community supported agriculture (CSA) members who buy organic produce from the farm. Brammer's organic roots go back 24 years; his farm was established here in 1977.
"We need Bill Brammer. He's worth fighting for," says Karen Archipley, vice president of Archi's Acres. Archi's provides job training for veterans—including training in growing organic produce. "He keeps organic food affordable. If he goes, nobody will be able to afford organic food; everything will be locked in a greenhouse. He supports almost 3,000 CSA's…He teaches other people how to grow sustainably and I don't want to lose him…He was one of the founders of California Certified Organic Food, a certifier."
Sandra Broussard, manager at Be-Wise Ranch, says they first learned of the problem late last year, when an assistant to entomologist Jim Bethke at the University of California Cooeperative Extension contacted the farm. "They had received a complaint and were looking into eye gnats in the area, but at the time they didn't know where they were coming from," she said.
Brammer agreed to allow traps to be put on his farm, which caught some eye gnats. The entomologist completed his study on October 22 and planned to compile data, then propose a plan of action. "We thought we would put out traps in early spring, before the warm summer season," Broussard noted. "Then we found out this agenda item was being planned."
 
Eye gnats thrive in warm, dry regions and are attracted to moist, sandy soils that are freshly ploughed and contain abundant humus or vegetable matter, such as cover crops or manure. Farms, parks and golf courses are among the locations that can provide fertile breeding grounds for the insects, which can cause conjunctivitis of the eyes.
 
Norm Barnhard, who lives in the gated community of Del Lago on the Greens overlooking a golf course, has complained, "You can't invite neighbors over and sit outside. These things will just hover all around and get in your eyes and ears."
 
The housing development in Escondido was built near an agricultural preserve, leading some critics to note that complaining about bugs if you move near a farm is akin to buying a house near an airport, then complaining about noise.
 
Still, Farm Bureau executive director Eric Larson observes, "Farmers want to be good neighbors."
 
Under the revamped proposal now before the Board of Supervisors, the Board would direct the County's Chief Administrative Officer to work with the Farm Bureau and other interested parties to come back within 90 days with a proposal on how to address the eye gnat problem.
 
In Jacumba, resid
ents have complained for years about an eye gnat infestation so severe that a County Grand Jury urged County officials to take action to eradicate millions of eye gnats traced to an organic spinach farm operated by Bornt Family Farms. In the Jacumba case, the town was there first and the farm moved in near residences and an elementary school more than a decade ago.
 
"Jacumba cannot be revitalized while this scourge continues," Danielle Cook with Jacumba Against Gnats, a citizens group, has argued. Cook, who sells organic ingredients for a global raw materials company, says she supports organics but believes Bornt has not done enough to relieve the gnat infestation plaguing residents in Jacumba.  In a letter to Supervisors,
Cook notes that San Diego has around 400 organic farms, but only two with eye gnat issues. "The 570 residents of Jacumba have put up with this nuisance since 2003," she wrote. "It is time for the San Diego County Supervisors to take firmer action."
 
"I had no idea there were eye gnats there," Bornt , owner of the Jacumba farm, told ECM. He recalled that at first, residents were "excited that they would have organic foods without spraying chemicals."
But after the gnat infestation developed, Bornt has spent large sums of money seeking a solution. Initial efforts proved unsuccessful. But more recently, he began installing baited traps similar to ones used in Riverside and Yuma, Arizona. "We reinvented and made it much better," he said.
 
In addition, Bornt took other steps. After learning that the gnats lay eggs on fresh, green organic matter, he changed his farm's practices. "We don't incorporate green matter anymore," he said. "We burn it or dry it and lay it on top of the ground. Then we put up barrier fences around the property that gnats can't get through." He also planted a green strip at the edge of his farm that attracts the gnats, then sprayed it to kill the insects before they fly into the town.
"The most drastic thing we've done is we stopped farming for six weeks in the middle of the summer, when gnats are most active. We farm in spring and then we farm in the fall," he said.
 
Together, those changes have reduced the number of gnats by over 95 percent at Bornt's farm, he said.
But some residents contend that's not enough. Complaints last summer included school teachers, the school district's superintendent, and a medical professional who cites an increase in cases of conjunctivitis.
Cook disputes Bornt's numbers as well as contentions that gnats are only a problem in summer months.  She forwarded a photo of a woman with eye gnats on her face. Cook said the photo was taken in October, next to a trap that has caught only one eye gnat in the past year.  At an October 1 Fall Festival in the Jacumba Community Park, Cook said, "the eye gnats were so bad that children were rubbing their eyes and crying and attendees left early..."
Bornt expressed frustration over the situation. He said he gave up meeting with community members after some meetings ending in a few residents "yelling and stomping out." He's expended $30,000 to $40,000 on studies alone and says he wants the County to provide help.
"I can't get the County to tell me at what point is it not a nuisance anymore? How many gnats is a nuisance? Their comeback is if it's a complaint, then there's a nuisance. Well that's not fair to the farmer; there's always some activist who says one gnat is a nuisance."
 
Spraying with chemicals would force organic farmers to lose organic certification for three years, on average. Since organic crops fetch higher prices than conventionally grown crops, farmers may not be able to survive and customers would lose their supply of organics, farmers contend. Bornt calls the vector proposal a "double edged sword" which would have allowed the County to expend funds helping farmers find solutions—but could also allow forced spraying and hefty $1,000 a day fines for non-compliance.
 
At Archi's Acres, Archipley says she believes pesticides are a cause of high cancer levels in our nation. Spraying for eye gnats would not only spread chemicals, but at least one study showed that the gnats rebounded with even heavier infestations after being sprayed, she said. "If they spray, it's everywhere," she said of aerial spraying techniques. "It's in your yard, it's in your swimming pools, it's in your wells. If you're in the yard, you get sprayed, too."
 
Why have eye gnat infestations become a problem in recent years?
 
Broussard at Be-Wise Ranch notes that a key natural
predator of the gnats has been largely wiped out in recent years.
"The gnatcatcher, that natural predator, was in the valley and then we had the Witch Creek Fire. The cycle of nature hasn't had time to return," she said.
Gnatcatchers, already on the endangered species list before the 2007 fires struck, were so diminished in numbers that discovery of nesting sites brought many a development to a halt in an effort to spare habitat for the rare birds. In 2007, fires reduced their coastal scrub habitat by another 80,000 acres, according to a community needs assessment report titled After-The-Fires Fund, prepared by the San Diego Foundation.
Gnat infestations are also exacerbated by an increase in urban-farm interfaces, with close proximity between organic growers and residents.  Gnats on farms in remote rural areas have long been around, but posed no problems for neighbors. 
 
More time and money for research are what's needed to resolve the pesky problem today, Larson and the other farm representatives contend. Potential solutions could include finding natural predators and/or organic pesticides made with natural materials. An example of an organic pesticide is Spinsad, which contains bacteria that kills fruit flies when the insects consume the product, without putting chemicals into the food chain.
 
Farmers want the County to continuing classifying eye gnats as nuisances, not vectors, while the agriculture industry works to find a solution. "Let it remain as a nuisance issue until all of the reearech and control procedures and methods have been attempted," Brammer wrote in a letter to members of his farm's CSA. He emphasized that he is willing to work toward implementing recommendations once the experts provide him with a plan, and has already begun trapping which has reduced gnat levels.

But he concludes, "The residents want total eradication of the eye gnat. This is unreasonable and an irresponsible stance; the eye gnats have existed in the Southern half of the United States ever since man began to irrigate and plough the fields. Eradication of anything is not natural; it is not what nature intended." He added that his farm has not been included in discussions with residents or Supervisors.
Cook wants the County to declare the gnats a vector problem.  She sees losses in her area to tourism and property values. She says Bornt has other options, such as switching to organic crops requiring less turnover than spinach and lettuce, growing conventional crops using pesticides, or "yes, he can leave."
 
Brammer agrees that residents should get some relief. But he fears a vector declaration would set a precedent that could threaten the organic industry.
If eradication is required through spraying, the leader in the organic farming industry warned, "Be Wise Organic Ranch would cease to exist. There would be no more Be Wise Ranch in the local stores, restaurants or nationwide distribution centers which provide organic produce to consumers all across the United States."