Printer-friendly version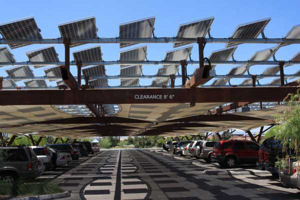 It is currently cheaper, on a per-watt basis, to install a small rooftop system in Germany than it is to install a giant desert installation in the US
.
April 9, 2012 (San Diego's East County)--Driving through the southwestern deserts, I've long been impressed by the ocotillo, a cactus-like tree with straight branches angling upwards to the sun, ablaze with red blooms. This thorny desert tree is an apt metaphor for the ways different people view energy issues-- especially proposed industrial solar and wind power projects in remote wilderness areas. Like the ocotillo, these programs and policies have a wide array of angles from which to be viewed.
A crucial issue for East County, with our back country and Anza Borrego Desert, is the amount of proposed projects on vast, previously protected land. According to Solar Done Right, President Barack Obama's policy of allowing massive energy projects on public lands is not as effective at producing renewable energy as people going solar at their residences, institutions, and businesses. As well, local small-scale solar generation could be more successful if model programs in other countries are considered.
Solar Done Right is a coalition co-founded by Terry Weiner of the Desert Protective Council and Janine Blaeloch of Western Lands Project.  Its members include public land activists, renewable energy researchers, electrical engineering experts, biologists, and others who view with concern the rush to develop our public lands for industrial solar energy and wind energy. Their mission is to urge government, utilities, the mainstream environmental movement, and the public to abandon this destructive path and to work toward generating the power we need in the already built environment.
Besides influencing the policies of the Obama Administration, their goal is to get the word out to Californians and people nationwide about local renewable energy alternatives. Their website, http://solardoneright.org, is a perfect place to go for detailed information on solar and wind issues.
The team at Solar Done Right believes in educating and inviting policy makers, representatives of large environmental organizations and influential people, such as Robert Kennedy, Jr., to tour desert areas, rural communities, wilderness, and agricultural lands that are about to be negatively impacted by industrial energy projects. It may be the key to forging our future policies, as important as educating the public.
Some believe this big solar trend is justified due to the threat from global warming. Yet,
big solar and wind facilities will require so much ecologically intact land that we will ultimately lose many of the places and wildlife we want to protect from global warming, including habitats that sequester greenhouse gases (GHGs). So far, energy companies have submitted applications to develop almost 230,000 acres, or about 360 square miles, of public land in California alone—the vast majority undeveloped wild lands—for solar and wind projects. These projects would only supply a fraction of our energy needs but would industrialize many of our intact wild lands needlessly.
The Desert Protective Council, a grass roots, non-profit educational organization, was founded in 1954 and employs Terry Weiner. Its mission is to safeguard and preserve for this and succeeding generations the scenic, historical, spiritual, natural, cultural and recreational values of the southwest deserts and to educate children and adults to a better understanding of the deserts. The DPC works through education, land stewardship and advocacy.
The group is currently working with the Ocotillo community and other Imperial Valley activists to oppose the proposed Ocotillo Wind Project, which would encompass 12,000 acres. Tom Budlong,  intervenor on the Imperial Solar Two project in 2010, has been active in monitoring and photographing the area and camping out near the small towns of Ocotillo and Nomirage in western Imperial County. A group of permanent and part-time residents, and friends from as far away as Santa Rosa, gathered there on Feb 25 and 26 to enjoy the beautiful desert and document the natural resources that would be lost forever if this project is approved.
One of the main features is a forest of Ocotillo plants, some over 25 feet high. Ocotillo Wind hopes to install 112 wind turbines with 300-foot towers and turbine blades reaching 450 feet high. Approximately half of the Ocotillo forest would be removed to make room for the turbines and the wide roads required. Large trucks and cranes move the turbines to the site.
The dedicated individuals and the grass roots organizations they represent hope that policy makers can follow the angles of the future with eyes opened; to the beauty, the importance of the desert ecosystem and its connection with other habitats and wilderness areas. It takes time to appreciate the intricate workings of the desert and its delicate balance. Everyone knows about Yosemite as an American natural treasure, but what about the Colorado, Mojave, Sonoran and Great Basin desert areas? They are also part of our American natural heritage.
Some who aren't familiar with desert environments don't see it as useful or life-supporting, so it is easier to dismiss it as an empty, barren place, perfect for industrialization. Nothing could be further from the truth. Desert ecosystems are complex, fragile, and diverse. They are home to thousands of species and hundreds of diverse ecosystems. These lands face a threat from global warming second only to the Arctic, according to the Endangered Species Coalition.
Industrial projects begin with grading and/or mowing the land-sometimes as large an area as ten square miles at a time-to embed the PV panels or mirrors. The percentage of impact with industrial solar  is 100%, scraping bare the land. It begins with disturbance of carbon-sequestering soils, which creates dust, erosion, and flooding. Then, it continues with forced relocation of animals, potential for animal diseases, and disrupted migration patterns across large areas.
With regard to economy of scale, some believe larger installations mean power will be cheaper. However, if we look to solar programs in other countries, the research is surprising. It is currently cheaper, on a per-watt basis, to install a small rooftop system in Germany than it is to install a giant desert installation in the US.
Most homeowners in CA have heard of net metering. A ratepayer receives a credit against his/her utility bill for energy that the ratepayer generates from rooftop solar or other onsite renewable energy. The credit is generally based on the current retail electricity rate with scant (or no) payment for generation above consumption.
Feed In Tariffs (FITs) are payments for generating excess solar power from local installations that is fed back into the grid. Over time, well-thought-out FITs can help recover the cost of installation, and meanwhile, radically reduce or eliminate the rooftop solar producer's energy bills.
In Germany, 100% of the power generated on rooftops is purchased by utilities and the rate payer buys power from the grid in the usual way. The Australian system, in contrast, net meters for energy consumed onsite, and the ratepayer is paid a premium for energy generated above what it uses. FITs are a much more effective incentive to improve energy efficiency and install rooftop solar.
German Feed in Tariffs incentivized a 10% drop in electricity prices, because onsite solar offsets expensive daytime peak power. The FITs also provide income to people and local economies, whereas big solar cash is pulled out of the community and goes to Chevron, BP, Goldman Sachs or Morgan Stanley. Good policy drives down prices much faster and more effectively than corporate giveaways.
So, which lands would be more appropriate for large scale industrial solar and wind projects? Agricultural lands certainly don't need to be paved for this purpose when they are already being utilized for food production. The EPA has already identified millions of acres of severely degraded and contaminated lands suitable for these projects in its Re-Powering America Lands program. Millions more areas of "solestate" or rooftops, parking lots, in-city brownfields, and highway medians would benefit from shade and high-value power provided by solar panels.
Such distributed generation could handily meet our renewable energy needs without pursuing remote, utility-scale development on our irreplaceable wild lands. Unfortunately, in the US, the energy and banking industries work to block common-sense, effective solutions like increasing efficiency and local generation, even though these solutions are faster to implement and better for our environment and our communities. In fact, photovoltaic (PV) and air-cooled concentrating solar plants are less efficient, and transmission loses highest when temperatures are high and needed most.
Between 10-14% of electricity is lost through long-distance transmission, effectively negating marginally higher solar insolation (rate of delivery of solar radiation per unit of horizontal surface) in the deserts. Since PV is modular, there is no increase in power production gained by aggregating panels in a single site. These sites are also vulnerable to weather, natural disasters, cyber-hacking or terrorism, and human error. In contrast, local micro-grids are ideal to accommodate local solar generation at peak times, without ever accessing transmission infrastructure.
Though the US has been slow to adopt effective policy incentives, CA has installed 1,000 MW of rooftop solar PV. Yet, not a single KW of large-scale industrial solar has come online since solar "fast-tracking" was implemented in 2005. Add to this the fact that National Renewable Energy Lab (NREL) has identified 80,000 MW of suitable rooftop solar in CA alone, far more than needed to meet California RPS (Renewable Energy Portfolio) goals.
It is prudent to approach all angles; it is wise to research them. Investigate not only how others appreciate our remaining wild lands, but how their preservation serves all. We all benefit if we define a solid policy--one that is based on the needs of the U.S., yet protects our farm lands and our precious functioning desert and high-country ecosystems.
Look at many angles, like the ocotillo teaches. Learn from the outcomes of solar energy implementation in other countries, such as Germany and Australia. Then, perhaps, our new solar policy will become one which serves both the human and the natural community.