Printer-friendly version

PERIPHERAL CANAL & DELTA PUMPING AMONG KEY POINTS OF CONTENTION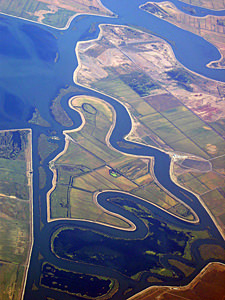 By Miriam Raftery
It's being billed as fish vs. farmers—or, in San Diego, where water supplies have been slashed while prices soar—people vs. the Delta smelt. Senator Dennis Hollingsworth (R-Murrieta), who represents East County, has even asked the Governor to convene a "God Squad" to ease environmental laws. The stakes are high on all sides--and the issues far more complex than many Southern Californians realize. 
Floor votes are expected next week on a major water package before the Legislature adjourns September 11, Capitol Weekly reports. The plan, now in conference committee, is apt to include a peripheral canal to trasnport water from the Sacramento River around the San Joaquin Delta (photo courtesy of www.freelargephotos.com) to Southern California, environmental protections, new reservoirs, and conservation programs.  A multi-billion dollar bond package to fund  projects may ultimately come before voters.
Debate over a peripheral canal to divert water from the delta region to Southern California has been raging for more than three decades. It was a hot topic when this editor worked in Sacramento back in the dark ages before Internet news. People in Northern California and the Delta region, where farmlands, water quality and fisheries are at stake, have more familiarity with the issues than those in drought-stricken Southern California eager for a new water supply.
A recent federal court order restricted pumping in the Delta, forcing some farmers to fallow their lands and further fueling the call for change. The ruling was made to protect not only smelt (a critical food source for larger sportfish), but commercially valuable fish species including salmon and steelhead trout, as well as the whales that feed on threatened fish species.  Fish restrictions have cut an estimated half million acre feet of water supplies to Southern California, or about a third as much as the drought, which has reduced water supplies to the South by 1.6 million acre feet, according to the U.S. Bureau of Reclamation.  But critics argue that the cuts have negatively impacted farmers, food suppliies, the economy of the Delta region, and availability of water for Southern California urban areas.
"Every drop of water is a valuable commodity in California and it is crucial that we protect what little we have," Hollingsworth has stated. "We are not only facing a natural drought, but one that is court-imposed, which will only worsen our current economic situation and impact many California communities and farmers who are already facing severe water restrictions." Hollingsworth signed a letter along with 27 other Republican legislators asking the Governor to convene a "God Squad" committee of cabinet members authorized under the Environmental Species Act (ESA) to put the needs of people first and to waive some requirements to protect threatened species. (Details in our prior report.)  (Also see an editorial by Senator Hollingsworth in this issue, for more details on his position:  http://www.eastcountymagazine.org/?q=node/1833.)
There's more than smelt at stake, however. Recordnet.com, a San Joaquin online newspaper, reported on June 5 that "federal scientists officially determined Thursday that California's vast network of dams, canals and pumps threatens the survival of salmon, steelhead, green sturgeon and even a small population of killer whales…The National Marine Fisheries Service set in place a series of strategies to stabilize the crashing species, including water supply reductions and passage for migratory fish over Shasta and Folsom dams to historic spawning grounds. Also, the feds want more water flowing down the Stanislaus River during the springtime, which would sizable dent Stockton's water supply." (cartoon by Celina Rodriguez)
25 million Californians rely on water from the Delta area, which also provides irrigation for a million acres of farmland. Those opposed to the canal have long argued that it would have serious environmental consequences in the delta region , including increasing the salinity of water needed for agriculture. There are also potential economic consequences. Some proposals have called for converting islands currently used for farming into restored marshland.
A statewide poll released August 31st by EMC Research and commissioned by Restore the Delta, an environmental group showed only 28% of voters support a Peripheral Canal and 34% oppose, with even more—39%--undecided. Opposition increased to 70% when voters were informed of the costs –up to $20 billion (though some estimates place it at $5-10 billion). The issue is not partisan as far as voters are concerned ; the poll found sentiments closely aligned among both Democratic and Republican voters. Initially, 33% of Democrats and 34% of Republicans said they opposed the canal; after hearing more information including funding costs, 72% of Repbulicans and 80% of Democrats opposed the canal.
Nearly half also opposed bonds for new reservoirs, the phone poll of 800 voters found. Environmentalists have voiced concerns over reservoirs on wildlife and habitat that would be submerged, promoting conservation as a higher priority. Yet voters also found that voters believe ensuring a long-term reliable water supply is a "very high priority."
Therein lies the conflict: securing reliable water supplies for Southern California could have negative consequences for water supplies elsewhere.
Dan Bacher of Yuba Net dubbed Governor Arnold Schwarzenegger the "Fish Terminator" for pushing what the group calls a "canal/dams boondoggle" estimated to cost $12-$24 billion at a time when the state faces its worst financial crisis ever. The National Marine Fisheries Service warns that any proposed Peripheral Canal should require years of planning and environmental review to avoid irreparable harm to fish, but state officials propose breaking ground on a canal in 2011. Some commercial fish species are "on the abyss of extinction" according to Bill Jennings, head of the Calfironia Sportfishing Protection Alliance, Recordnet.com has reported.
An article in California Progress Report accuses legislators backed by Agribusiness interests of "trying to fast-track a dangerous package of five bills through the Capitol that Delta advocates say will serve as a road map to the peripheral canal." Bills would establish a Delta Stewardship Council with the majority (four) of its seven members appointed by the Governor. The council would have power to authorize construction, issue fees and bonds to fund a peripheral canal, the IndyMedia article stated.
There are also fears of negative impacts on groundwater supplies from rerouting water supplies. "It puts a dagger in the groundwater basis," Kevin Kauffman, general manager of the Stockton East Water District, said of the potential loss of New Melones Lake.
Pacific Legal Foundation has launched a lawsuit calling federal protection of the imperiled fish "unconstitutional" and "immoral."
The Latino Caucus, meanwhile, on August 29 outlined its water policy priorities, which include support for dams and a canal as priorities, adding to political pressure on legislators to take action.
Supporters of the canal say it would create thousands of jobs , improve water quality in Southern California and restore the Delta to a more natural environment. Opponents say diverting water around the Delta would destroy the Pacific's largest estuary and cause permanent loss of critical habitat for migratory birds, fish and other wildlife.
"It is sadly reminiscent of the mad rush to the $50 billion energy deregulation fiasco," Bill Jennings, executive director of the California Sportfishing Protection Allliance (http://www.calsport.org) has said of legislative efforts to expedite construction of a peripheral canal.
 
Representing the Obama administration, Deputy Interior Secretary David Hayes visited Sacramento in mid-August to assess water needs, Recordnet.com reports. Restoring the Delta and resolving the state's water crisis will be a high priority, he pledged, as Delta fishers and farmers pleaded for help. Angry Delta boaters later staged a "million boat float" to protest conditions in the region.
Hayes called for more federal involvement and public discussion of the Bay-Delta Conservation Plan, an effort which could result in construction of a peripheral canal. Hayes has not said whether he would support a canal or not. He likened restoring the Delta to restoring Florida's Everglades.
"I hope that we will work closely with the state and with all of you," he said at a public forum. "This ecosystem is incredibly important."