Printer-friendly version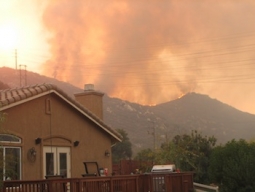 By Walt Meyer
September 3, 2013 (San Diego's East County) -- For people in East County, it's no secret that fire season is upon us. But at any time here in earthquake country, we can experience other sorts of disasters—and we should use the start of fire season as a reminder to check our emergency kits. As many who lived through the great fires of 2003 and 2007 know too well, there is often not time to think or plan, let alone pack once the fire is coming over the hills. And certainly with an earthquake there will be no advance warning.
Coping with a range of catastrophes isn't easy, but like holding fire drills at schools, going through the motions as practice for a disaster and having everything ready on a moment's notice can do a lot to reduce panic when crucial minutes count. For households with children, elderly people or those with limited mobility, being ready  to take action and evacuation if needed is especially important. 
It has often been suggested that while you are changing the clocks for daylight savings time in the spring and fall it is a good time to change the batteries in the smoke detectors. The start of end-of-summer fire season is a good time to make sure that everything is up to date in the emergency kit. That updating should start with the checklist. Did you add or lose any members of your household? That list should include pets. Check the dates on the canned goods and other perishables and make sure the stored drinking water is still good. 
Create an emergency plan for your family, identifying two places for the family to meet. One should be a place outside your home, but nearby--perhaps a neighbors or a specific street corner. The other should be a spot away from your neighborhood in case you can't return home or the entire area is be evacuated. It's helpful to pick a friend's place so your friend can let you in and relay messages if needed. 
Practice the plan with your family, including your children. Don't just say, "Let's meet at the Smiths." Walk over there and plan which door or side of the Smiths' will be the meeting place. Practice is especially important for children. If they get used to doing something when there is no panic, they will be much less frantic should a real disaster strike. The routine will make it seem more normal.
Know the places where family members spend a good deal of time. Review the emergency plans at your workplace, your children's school or daycare center, friends' homes and other places where members of your family regularly spend time away from home. Plan safe routes away from your home and business to high, safe ground. Make sure your children are aware of the routes away from home. Also, have alternate routes in mind if the first option is blocked. 
Develop a plan for family pets and livestock--and have a back-up plan because some evacuation shelters may not allow animals. Designate a friend or family member outside the area who family members can call if separated. Having someone with whom to check in will also help relieve stress  so you know everyone is safe, if not together. Have family members memorize that number in case the cell phones die and that call has to be made from a strange landline on which a number saved in speed dial won't work. 
Keep current important documents in a safe-deposit box or send copies outside the area to be kept by a trusted relative or friend. After Katrina, many banks were lost along with homes, so with the deeds, insurance certificates and every other proof of ownership and the homes themselves gone, it was hard for many residents to start the paper chase to get their property covered. 
Using information provided by SDG&E and supplemented with additional tips, we've come up with the following suggestions to be prepared:
Have one set place for your emergency supplies that should include, at minimum: 
Three-day supply of bottled water (one gallon per person per day, plus extra for pets of special needs)
A three-day supply of packaged, dried, and canned food that could prepared without cooking
First aid kit and essential medicines
Pet food and pet carrier, if applicable 
Manual can opener
Portable radio and flashlights with spare batteries in waterproof bags
An extra set of car keys
Credit cards and some cash in case the power is out and ATMs aren't working
Special items for infants, elderly or disabled family members
Also make sure you have a car charger for your cell phone(s). During last year's power outage, many people had to charge their phones in their cars. If you don't have a charger that  stays in your car, it would be a good idea to get one. The price of back-up phone chargers has come down enough to be very affordable and worth the investment not only for emergencies, but for long days away from power—just going to Comic-Con, for instance. 
Know how to operate everything if the electricity is off—the keyless entry and electric garage door and gates, for instance. Is there something in your house, like a gas feed that may need to be turned off? Make a list. And if any of these things are complicated, have copies of any instructions with the emergency kit.  
It's better to have supplies ready and never need them than to need them and not have them. 
SDG&E has also prepared some videos with more helpful information:
On fire season planning: http://www.youtube.com/watch?v=T-imkIoLBRk
And on emergency preparedness: http://www.youtube.com/watch?v=285PTi7MdBA