Printer-friendly version

Story and photos by Miriam Raftery
May 10, 2010 (Spring Valley) – Fire gutted an apartment unit at 3613 S. Bonita in Spring Valley this evening, though a swift response by multiple fire agencies saved adjoining units.  Anxious residents, some in pajamas and one in a wheelchair, gathered outside as firefighters conducted a search of the building. No one was found inside and no injuries were reported.
"When I came home and opened the door, there was smoke," said one occupant of the unit, who asked that his name not be published. "I broke open a fire extinguisher and saw a fire in a trashcan, then I called 911." Four residents in his unit and a dog were displaced by the fire, he said.
At 7:30 p.m., fire billowed skyward and was visible from Mt. Helix and other surrounding areas. Multiple units responded, including firefighters from San Miguel and La Mesa Fire departments.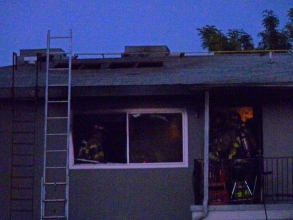 "We've knocked it down and contained it to one unit so far," Captain Ron Quinlan of San Miguel told East County Magazine, as firefighters continued battling the blaze after cutting a hole through the roof of the two-story apartment building. Damage appeared limited to one unit. "We saved five others," he said.