Printer-friendly version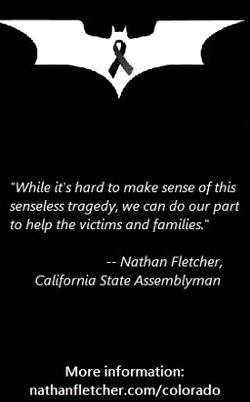 July 28, 2012 (San Diego)--
California State Assemblyman Nathan Fletcher and the San Diego Police Officers Association will hold a fundraiser to help those affected by the Aurora, Colorado theater shooting at a special screening of The Dark Knight Rises this Sunday, July 29 at 3 p.m.
Movie ticket proceeds will go to victims and their families to pay for hospital stays, rehabilitation costs and miscellaneous expenses. Proceeds will go directly to the Aurora Victim Relief Fund, created by Colorado Governor Hickenlooper through the Community First Foundation.  Nathan Fletcher is an Assemblyman representing San Diego, where the shooter was from. 
This event is open to the public. Tickets will be available for a $25 at the door. Cash, check or credit card will be accepted. Event invitation here.   The location is  UltraStar Cinemas, 7510 Hazard Center Drive #100, San Diego, CA 92108.  For more information visit www.nathanfletcher.com/colorado.