Printer-friendly version
By Miriam Raftery
In an exclusive interview with East County Magazine, 52nd Congressional District candidate Lori Saldaña offered in-depth perspectives on top national issues—including the impacts of federal policies being felt in San Diego and East County. 
May 21, 2012 (San Diego) – Lori Saldaña knows how to be a tough competitor. A field hockey athlete  in college and outdoor enthusiast who led hikes through San Diego's backcountry, she became our region's Sierra Club President and sued to enforce environmental laws.  As an educator, she created successful job training programs. In Sacramento, she chaired  powerful committees and pushed through landmark legislation that she authored--including AB 32, California's major measure to combat global warming and  SB 1, the million solar roofs initiative.  President Bill Clinton appointed her to co-chair a committee on water quality improvements for 10 U.S.-Mexico border states. Scrappy and determined,  she's earned her reputation as a fighter with a winning  record.
"I know what it takes to create jobs," said Saldaña, a 20-year educator who taught business information technology and workforce development programs  at the San Diego Community College District. She developed and managed educational and technical jobs skills programs, including a $1.5 million technology workforce development grant  from  the U.S. Department of Labor. "We created skilled jobs for hundreds of students and we helped get jobs for the poor."    
The candidate sat down with ECM for an interview at a Peruvian restaurant near her campaign headquarters, where a legion of volunteers busily manned phone banks in hopes of providing Saldaña, a Democrat, with the job of representing  voters in the redrawn 52nd Congressional District.
She is one of ten candidates vying for the seat currently held by Republican Brian Bilbray – and she's running on a proudly progressive track record.
"Brian Bilbray voted for the Ryan budget. He voted to privatize Social Security and to turn Medicare into a voucher program. You tell me how much private insurance an 80-year-old can buy?  He voted no on the Affordable Care Act," said Saldaña, who by contrast voted for a healthcare-for-all bill in California that was vetoed by Governor Schwarzenegger.  "Bilbray voted no on the Lily Ledbetter Fair Pay Act for women. And he voted to weaken the Clean Air Act."
She has been outspoken in her criticism of Bilbray, a former lobbyist who has long been accused by opponents of taking money from special interests and voting for legislation favoring the agendas of lobbyists and powerful corporations.
Saldaña has served as Speaker Pro Tem in the Assembly and chaired committees on Veterans Affairs, Housing and Community Development, as well as the Legislative Women's Caucus.  Despite the Republican majority controlling Congress, she noted, "Bilbray has never chaired a committee. What we need is leadership.  If after 14 years in Congress you haven't achieved any degree of leadership, maybe it's time to get a new job."
She pledges to "keep our promises" for seniors regarding Social Security and Medicare, as well as solvency of private pension funds.
Saldaña believes healthcare should be a right for all, not a privilege for the wealthy.   "Healthcare costs overall are increasing," she said, citing the aging population. "Our greatest generation is getting older." She faults Republicans such as Bilbray for "balancing the budget on the backs of the poor, working people, and seniors. I will not support that." 
"Healthcare issues for Indian tribes are also very severe. My sister is a nurse, she goes to the Navajo reservation." Saldaña believes her experience in dealing with tribal issues in the Legislature and with the Bureau of Indian Affairs has also prepared her for service in Congress.
Daughter of a career Marine, Saldaña served on the Veterans Affairs committee for a decade.  She authored AB 599, which assured California veterans access to mental health services—a critical issue for Iraq and Afghanistan vets suffering from traumatic brain injuries or post-traumatic stress disorder. She looks forward to working in Congress to help veterans struggling with post-traumatic stress disorder and homelessness, as well as meeting the needs of women veterans and military families. 
"Returning veterans need jobs," she told ECM. She wants to utilize her experience in workforce training to assure that vets get training in interviewing and transitioning to civilian life. She would also crack down on schools that abuse the GI bill by taking money from veterans without providing adequate training and career preparation.
Asked about the Iraq and Afghanistan wars, Saldaña noted that the U.S. is winding down its presence in Iraq, but strategic and military concerns remain.  In Afghanistan, she observed, "We need to empower locals to take over, or get out. We can't continue to fund education and infrastructure in other parts of the world and continue to underfund it here." 
Here in the U.S., she wants to restore Pell Grants and cap student loans at 3.8%.  She denounces Republicans in Congress for tabling a bill that would have prevented student loan rates from nearly doubling to over 6%.
On her website, Saldaña calls for investing in American health, safety and education to restore economic prosperity.
"It was the public investments made after World War II that brought us interstate highway, an educated workforce, secure home ownership, electrification and safe drinking water," she observes. "These things helped create the largest expansion of the Middle Class in American history. Today, our tax code is full of exemptions for special interests," said Saldaña, who favors requiring the top 1 to 3 percent of income earners to pay their fair share and closing tax loopholes. She also pledges to fight against efforts to rollback workers rights, a situation that she believes has fueled rising poverty in some areas.
"More and more Americans are living on the edge of poverty," she said. "We need to turn this around, by investing in the things that will restore our economy, and people's faith and confidence in America."
She supports investments in transportation, education, technology and energy independence. 
Asked her views on energy, Saldaña made clear that she has long been a supporter of "regional distributed energy" and opposed Sunrise Powerlink. Instead of  industrial wind and solar, she favors rooftop solar, as her million solar roofs bill and support for a zero net energy housing bill have demonstrated. "I haven't taken any campaign contributions from SDG&E," she added.
"Ratepayers have been overcharged for years….We have the technology and the know how," she said of transitioning to locally generated solar power. "What we lack is the willpower of the energy companies. It hurts their whole premise." Rooftop solar also offers our region security against blackouts, she noted.  
She calls for decommissioning of the San Onofre nuclear power plant.  "Let's replace it with green energy and a tourism theme park. Leave the domes and cover them with solar panels," she suggested. 
She is proud of AB 32, the Global Warming Solutions Act, which created "a ripple effect throughout the world" by allowing cap and trade under which a company can offset its carbon emissions by paying to reduce them elsewhere.  "This is a global initiative and California led the way," Saldaña said, noting that California is the eighth largest economy in the world.
She voiced concerns over the fast-tracking of industrial energy projects under the guise of green energy. 
"Public comment is very important," said Saldaña, who became a plaintiff to stop a water plant project with negative environmental impacts.  An urgency clause reduced public input, similar to how public comment has been restricted under the federal fast-tracking process.
"I would go back to strengthen protections on the public review process," she pledged. She also encouraged citizen activism.  "If government won't take action, then citizens should sue."
Saldaña has concerns over the Republican push toward privatization, such as efforts by 'extremists" to dismantle or  privatize Medicare as well as the trend toward turning over public lands to private energy corporations. 
"We can't privatize profits and leave the public with the risk. Whether that's nuclear waste or wind farms, the people with the most profit need to accept the most risk."
Saldaña sees a link between energy and wildfire risk for our region. "We know the main cause of the wildfires in this county has been power lines, and also climate change," she noted. "We need less reliance on foreign oil" along with local power generation such as solar, she affirmed.  She also faults San Diego County for lacking adequate funds for firefighting in our region.
She is also a staunch advocate for women's rights. "I was a champion of choice," she says of her legislative record. "I fought the Governor for money when cuts were made to women's healthcare programs that would affect not only women, but children."  She also fought to have funding restored for domestic violence shelters and healthcare screenings including mammograms.
To accomplish the latter, she engaged in some street theater to draw attention.  "We put on pink aprons and held a bake sale on the steps of the Capitol," she said with an impish smile.
To Saldaña, the recent assaults on access to birth control for women is inconsistent with the pro-life values of proponents. "If you don't want abortions, then we need family planning," she said. 
The former athlete learned first hand the importance of government protecting women against discrimination. While playing sports at San Diego State University and pursuing her degree in Exercise, Science and Nutrition, she recalls, "They cut the women's field hockey. They cut Title IX, the federal program. People think it's  just for sports, but it transformed education."
She also recalls being denied a space in an electronics course in middle school. "It took me until college to take it," said Saldaña, who went on to become a tenured professor of information technology and eventually an assistant Dean.
Saldaña's strong pro-choice record and support for women's issues has earned her endorsement of the National Organization for Women , Run Women Run, and Emily's List.  She has also drawn other national endorsements, most recently from the progressive and influential MoveOn organization. 
Other endorsements include the American Federation of Teachers, California Federation of Teachers, former Assembly Speaker Karen Bass, the California School Employees Association, National Nurses United, Services Employees International Union Local 1000, Former State Senator Sheila Kuhl (author of the single-payer healthcare for all bill), State Insurance Commissioner Dave Jones, former San Diego Councilmember Donna Frye, and current Councilmembers Tony Young and Marti Emerald as well as numerous Democratic Clubs.
She also gets a 100% score from Equality California and twice coauthored marriage equality legislation.  A staunch supporter of equality and civil rights, she also created a coalition of faith and community leaders to combat hate crimes in Sand eigo County and helped pass a law to prevent bullying in public schools.
She also coauthored legislation to allow victims of wage discrimination to seek legal remedies, helped pass a bill to expand paid family leave for workers caring for seriously ill family members, and helped pass a law preventing  sex discrimination in health insurance premium pricing.
On immigration, Saldaña wants to see increased enforcement at the border while also increasing resources for legal applications so that people won't have to wait years and years for citizenship.  "Fewer people are crossing the border for work, but there is an increase in drug trafficking, so safety of people on the border is still a serious concern," she added.
 On the economy, in addition to the points made above, she also wants to restore access to capital for small businesses currently having difficulties getting loans even for successful ventures.  "Small businesses are the backbone of our economy," she said, "and I applaud the President's decision to give the Small Business Administration cabinet level status." 
The race is among the most closely watched nationwide this election cycle. With restricting, the once conservative district has shifted demographics.  It now has 35 percent  Republicans, 33 percent Democrats, and 29 percent of voters who decline to state party affiliation.  But with nine candidates running—all pummeling Bilbray's record, Saldaña hopes to emerge among the top two in the June primary—and square off against Bilbray for a heated battle in November. 
An aggressive campaigner, she has also taken aim at her principal Democratic opponent in the race, Scott Peters. "Scott was on the Coastal Commission…He only got a 40% rating from the League of Conservation Voters. Bilbray got 42%."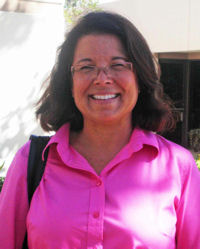 Saldaña touts a 100% career rating from Sierra Club and co-founded San Diego's first Earth Day, among other environmental accomplishments.
She has badgered opponents to release their tax returns. To date, Bilbray has complied but Peters has not, stating his wife's business has confidential client records. Saldaña says Peters paid his wife $50,000 in business fees to manage his campaign.
"When Mitt Romney finally released his taxes, we discovered he paid a lower tax rate than most Americans," Saldaña has stated. "I know Mr. Peters has considerable personal  wealth, so I have to wonder if that's why he refused." But she concluded, "When I talk with San Diegans and hear their stories, it's clear many are still struggling as the economy improves. By releasing my tax returns I want them to know: I get it. I hear you loud and clear. My family's a lot like your family."