Printer-friendly version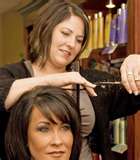 November 25, 2009 (El Cajon) --La Dolce Belladonna, located in Fletcher Hills, is proud to be a participant in the Locks of Love Program as an approved hair salon that performs free haircuts by licensed, professional hair stylists.
To qualify for a free haircut, a person must have long hair and be willing to cut and donate it to a child who has lost his or her hair due to an illness. Very few salons in San Diego offer haircuts free;t this is the way La Dolce Belladonna Spa says thank you to those who donate their hair to benefit children in need. 
To find more information on this special program you can contact www.LDBsalon.com, or to learn more about the non-profit Locks of Love www.locksoflove.org.
Nancy Clement is an east county Realtor®, mortgage broker and freelance writer and can be reached at 619-563-4184 or Dollar-wiseDivas@cox.net. Dawn Clement is a stay-at-home mother of three, a freelance writer, and creative shopper.