Freebie Alerts
By Nancy and Dawn Clement
October 27, 2010 (San Diego's East County) - Stan Rodriquez, Kumeyaay Community College instructor, will share ideas about the Kumeyaay lifestyle and their use of plants at an hour-long presentation for the Early San Diego History conference. This family friendly event will be on Saturday, November 6 from 8:30 a.m. to 4 p.m. There are activities for kids, music, dancing and theatre skits, fascinating lectures, vaqueros and horses.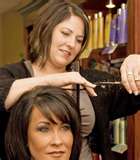 November 25, 2009 (El Cajon) --La Dolce Belladonna, located in Fletcher Hills, is proud to be a participant in the Locks of Love Program as an approved hair salon that performs free haircuts by licensed, professional hair stylists.
To qualify for a free haircut, a person must have long hair and be willing to cut and donate it to a child who has lost his or her hair due to an illness. Very few salons in San Diego offer haircuts free;t this is the way La Dolce Belladonna Spa says thank you to those who donate their hair to benefit children in need.