Printer-friendly version
East County News Service
"If she wins, it would destroy California's clean energy industry," -- Senator Barbara Boxer on her opponent, Carly Fiorina.
"The American dream has become too hard for too many people." --Carly Fiorina
September 2, 2010 – Journalists and voters questioned U.S. Senator Barbara Boxer (D-California) and her opponent, Carly Fiorina in a contentious debate last night. Boxer slammed Fiorina for outsourcing jobs, opposing two jobs bills including one to save teachers' jobs in California, and supporting "billionaires and CEOs" over the needs of working people. Fiorina said California is in the "worst economic crisis" since the Depression and bashed Boxer's record. In response, the Senator's campaign releases a fact-check sheet that disproved key Fiorina claims. View the full debate video on C-Span.
Fiorina led off by citing rising unemployment rates, now 12.3% and a $13 trillion federal debt.
Boxer fired back at the ex-Hewlitt Packard CEO. "What did my opponent do before she was fired? She outsourced 30,000 jobs…That's the size of Foster City." She further noted that Fiorina was voted "worst CEO in America" by a technology magazine.
 
Asked how she could justify tax cuts to the wealthiest Americans while opposing two jobs bills (one to save 16,000 teachers' jobs in California, the other a measure supported by the Chamber of Commerce), Fiorina criticized Boxer for allowing "death taxes" to rise.
 
"I'd like to go back to the question," Boxer chided her oponnent for doging the issue. Boxer said 95% of California students attend public school, yet Fiorina called a bill to save jobs of 16,500 teachers given pink slips "disgraceful," Boxer  noted, adding,"We paid for that bill by stopping tax breaks for companies that ship jobs overseas."
 
The candidates also clashed on climate change legislation. Boxer chairs the House committee on environmental issues. Fiorina, whose campaign ads have equated global warming with weather fluctuations, accused Boxer of "environmental elitism." She called Boxer's landmark cap and trade bill too costly and said it would cost jobs. She called for more money for nuclear, wind and solar research.
 
But asked her opinion on Prop 23, a measure that would repeal incentives for green-tech industries such as wind and solar in California, Fiorina said she didn't have a position yet.
Boxer slammed her opponent for refusing to take a stance. "If we overturn California's clean energy policies, it means Germany and China will be taking the lead away from California in solar and wind energy…My opponent is used to taking jobs away and replacing them with jobs in China," the Senator added. "She takes money from coal and oil industries—and they are hoping she succeeds. If my opponent wins, it would destroy California's clean energy industry," Boxer predicted.
 
Boxer was asked whether the Iraq War was worth the cost. She noted that she was one of only 23 Senators who voted against the Iraq War, but did support the war in Afghanistan. She also said a key area where she differs from President Obama is that she supports a measure to require that timelines for bringing troops home from Afghanistan, starting in 2011, should be established.
 
Fiorina criticized Boxer for voting against a body armor measure; Boxer said the bill was not strong enough to protect our wounded warrior but noted other measures to help our wounded veterans that she has supported. She cited an award she recently won from doctors serving burn victims, noted a bill she sponsored to help brain-injured veterans, and added that her husband is a veteran.
 
On immigration, Fiorina for the first time said she would support the Dream Act but not amnesty, also calling for secure borders and a guest worker program. Boxer noted that 11 million people are living in the shadows. "My opponent calls this a distraction, so they would have to be deported," Boxer said.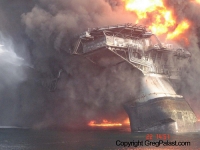 Tim Tam, a viewer from Oakland, asked long-time incumbent Boxer why not give others a chance to serve. "Every election is a chance," said Boxer, who added that voters have a "clear choice" on jobs, offshore oil drilling (she opposes, Fiorina supports), and a woman's right to choose.
 
Fiorina claimed Boxer is ineffective and said she only had four bills with her name become law. Boxer's campaign later released information stating that the Senator has authored 1,100 provisions and posted 100 of those on her website—including many that she has authored and coauthored. Multiple fact-checks in other media confirm that Fiorina fibbed on that point. 
Boxer wrote the law creating the first federal afterschool program, authored a bill to create the first combat casualty care center in California, doubled funds to rebuild California roads and bridges to keep them safe, and passed drinking water standards to protect Americans' health.
 
Fiorina pulled no punches in taking more jabs at Boxer. "She voted for the Wall Street bailout bill," said Fiorina, who defended her own decision to outsource 30,000 jobs to India and China. "Sometimes you have to lose some jobs to create more." She called on the federal government to create "economic zones just like China does" and referred to the current economic climate as a "summer of despair."
 
Asked about $21 million in severance pay when she was fired by the Hewlitt Packard board, Fiorina claimed she "ripped up my pay and every document was voted on by shareholders." She said she previously doubled innovation for the company.
 
Boxer accused Fiorina of playing fast and loose with facts about her severance package, noting that she took $21 million after the stock prices went down 50%. "If she's calling for accountability for teachers, there ought to be accountability for CEO's," said Boxer. "She opposed every single jobs bill we voted on She opposed Wall Street reform…My opponent is running on her record as former CEO of Hewlitt Packard, and I'm going to keep telling the truth about it."
 
Boxer noted that under Clinton administration policies that she supported, "We created 23 million new jobs. We not only balanced the budget, but we created a surplus." Under Bush, by contast, republicans ran up a $13 trillion deficit and "the worst record since Herbert Hoover. They only created 1 million jobs, compared to 23 million under Clinton." Recover from the recession that began under Bush takes time and Republicans have continued to obstruct key jobs bills, she noted.
 
A questioner asked candidates their views on the Defense of Marriage Act, noting that it would deny same-sex couples oer 1,000 rights that married couples now have, such as Social Security survivors' benefits. Fiorina affirmed her belief that marriage should be reserved for a man and woman, though she supports civil unions. Boxer noted that the judge who overturned Prop 8 was a Republican and said she supports marriage equality.
 
Fiorina defended her opposition to embryonic stemcell research and abortion. "My husband's mother was told to abort him, but she didn't." Pressed to clarify whether she would support overturning the Roe v. Wade decision that legalized abortion in America, Fiorina admitted that she would like to see Roe v. Wade overturned, justifying her stance as support for states' rights.
 
Boxer said she supports each woman's right to choose because every story is different. If Fiorina were to succeed in outlawing abortion, Boxer noted, "Doctors would go to jail and women women would die like they did before Roe vs Wade."
 
A voter named Alana Armstrong asked why large agribusiness gets 74% of subsidies. Boxer replied that for the first time, the recent Farm Bill rcognized specialty crops need recognition and also said she wants to "make sure the estate tax does not kick in if you are a family farmer and want to pass on the farm."
 
In a rebuttal response, Fiorina hit Boxer on water issues, citing need for water for the Central Valley, but moderators did not provide Boxer a chance to respond.
 
Boxer called Fiorina's support for letting people on no-fly lists carry guns "shocking." Fiorina said her sister was on a no-fly list and added "We should not take away rights", but failed to say how she would protect passenger safety if no-fly list members were allowed to tote weapons. Senator Boxer, who authored a law allowing pilots to carry guns in cockpits, called Fiorina "out of touch" adding, "She will make us less safe." Fiorina also supports overturning an assault weapons ban; Boxer opposes changing the law.
 
Fiorina wants to cut taxes for corporations and higher-earning individuals, also reducing regulations on businesses. 
Boxer wants to provide tax breaks to the middle class instead of to companies shipping jobs overseas, also increasing loans and tax breaks for small businesses and cutting the deficit in half by 2013.
In closing, Fiorina vowed to fight for  Americans and to "take our own government back and make it work."
 
Boxer concluded that voters have a clear choice between "someone who is fighting for jobs every day, versus someone who laid off 30,000 workers" and stamped "made in India and China on products that she sold."