Printer-friendly version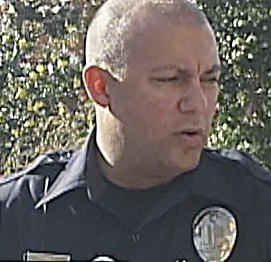 Women officers have fewer use of force incidents, but only 9% of ECPD officers are women. Could more females on the force have prevented death of Alfred Olango?
By Miriam Raftery
September 29, 2016 (El Cajon)—Mayor Bill Wells has confirmed that the officer who fired the fatal shots in Tuesday's controversial shooting of Alfred Olango was  Richard Gonsalves—the same officer embroiled in a sexual harassment scandal last year. 
Could a culture that encouraged women officers to join the force have perhaps prevented Tuesday's tragedy, before Olango pulled out a vaping device mistaken for a gun?
Multiple studies over 40 years have shown  that women police officers  are better at defusing tense situations and have significantly lower use-of-force rates than male officers,  the Washington Post recently reported.
For example, A 2002 study by the National Center for Women & Policing of excessive force incidents in seven major city police departments found that "the average male officer is over eight and a half times more likely than his female counterpart to have an allegation of excessive force sustained against him … [and] two to three times more likely than the average female officer to have a citizen name him in a complaint of excessive force."
But the El Cajon Police Department has long drawn criticism for tolerating sexual harassment  and other sexual misconduct by male officers toward women on the force--hardly a history conducive to attracting women seeking careers in law enforcement.
Gonsalves was accused of texting nude photos of his genitals and making sexual propositions to a woman on the force seeking a three-way tryst.  He was demoted but remains on the force despite two lawsuits filed by the woman, Tina Greer.   Gonsalves was not charged,  though such actions if true are crimes. After a lawsuit with Greer was resolved she returned to the force but recently filed a new suit alleging continuing harassment by Gonsalves. 
An investigation by East County Magazine found a long and lurid history of tolerance for sexual misconduct at the El Cajon Police Department.  It included multiple past settlements by the city to woman who said they were sexually harassed , yet the harassers remained on the force.  Another officer was convicted of having sex with the underage daughter of a female employee; another was convicted of exchanging sexual favors of women he detained. An entire book has been published on mostly sexual scandals rocking the department, from an officer allegedly sleeping with a witness to tales of parties with underage girls to a double murder involving two El Cajon Police officers in a love triangle.
Our  probe also revealed that as of April 2015,  only 9 of 122 sworn officers at the ECPD are female (though 55 of 67 non-sworn staff are women).That's below the national average.  There were also no women in sworn management positions (though four held non-sworn management jobs.)    
The city did outline its policies aimed at preventing sexual harassment in our April 2015 probe.  The police chief at that time has since retired and a new chief heads up the force.
But the death of  Olango raises the question of whether a more diverse police force might have made a difference—and saved Olango's life.
If a woman and a black officer had responded to the scene, instead of two white male officers, might the situation have ended differently?
Dan Gilleon is the attorney for both Olango's family and Greer, the woman suing El Cajon for a second time over Gonsalves' alleged actions.
In an interview with Democracy Now,a national radio show, Gilleon stated,"It was over-the-top sexual harassment, something that would get anybody in this world, I would suspect, fired. But for whatever reason, the El Cajon Police Department decided to rally around, circle the wagons around, then-Sergeant Richard Gonsalves and just demote him down and then send him back to work with her, at which point he began continuing his harassment of her...Other officers would start making comments about her complaint about him, because they didn't like that she violated the code of silence. It's just a deplorable situation for Officer Greer,."
The attorney added, "And now this cowboy, who felt like he didn't have to follow the rules that said you can't send photographs of your penis to your subordinates, this same officer showed up at the scene of a mentally ill person who was, you know, acting out, and decided to take the law into his own hands there, too. And I think that this is just a problem for the El Cajon Police Department, because now, as you see again, circling the wagons, rallying behind this now officer and trying to act like he's a victim again."
Olango, who came to the U.S. as a Ugandan refugee, had suffered great hardships in his life, but he also had several past convictions including drug charges and illegally owning a firearm while a felon. After two of his convictions, the federal government had sought unsuccessfully to deport him, 10 News reports.  ECPD has said the officers were not aware of those convictions,however, before the shooting.
On the day of his death,  family members have said Olango suffered a breakdown mentally after death of a friend. His sister called 911 seeking help three times.  The dispatch calls reportedly identified that he had mental health issues.
Yet it took 50 minutes for police to respond,  arriving with no psychiatric emergency response team  (PERT) member.   ECPD has indicated no PERT team was available at the time due to another call. Officers reportedly saw Olango wandering in traffic,  ignoring their orders.  One officer reportedly trained a taser at Olango while the other officer backed him up with a gun.
Police say Olango pulled an object out of his pocket and pointed at the officers in a"shooter's stance," as a photo appears to confirm, though police have refused to release a video taken by a bystander of the full confrontation.  Both officers opened fire.  Olango was given medical aid and transported to a hospital, where he died.  Later it was determined the object he wielded was a  silver vaping pen for smoking, not a gun. The device had a black boxy holder and resembled a firearm.
The tragedy has raised many issues, including whether his race was a factor and whether more PERT teams are needed to respond to people people suffering mental health crises. 
But it also raises one more serious question:  did the El Cajon Police Department's  tolerance of harassment toward women contribute to the low rate of females on the force?  If Olango had encountered a female officer with a caring, nurturing attitude, might he have responded differently  and had his life saved, instead of ended by gunfire?