Printer-friendly version
April 1, 2010 (San Diego's East County) – The Chaldean community, in partnership with Cuyamaca College, San Diego State University, and Supervisor Dianne Jacob, have announced plans to create an economically sustainable tourism program for East County.
"We already created Little Babylon in El Cajon, but nobody noticed," said Father Michael Bazas, spokesman at St. Michael's cathedral, which serves the estimated 35,000-50,000 Chaldean Christians in East County. "Now we are taking it to the next level. To preserve our ancient cultural heritage from Mesopotamia, we are resurrecting the fabulous Gates of Ishtar at
our place of worship. We have also forged partnerships to foster re-creations of the other six wonders of the ancient world here in East County."
 
Those projects will combine engineers displaced from Iraq along with training programs for low-income students to learn sustainable and green construction practices under a grant secured by ECM's publisher, the Heartland Foundation.
"As the Great Pyramid of Giza demonstrates, some ancient builders knew how to design for the Ages," Heartland executive director Mark Hanson observed.
 
Henri Migala, executive dean of Cuyamaca College, announced his enthusiasm for the project. "The Hanging Gardens of Babylon will make an exciting new attraction at our Water Conservation Garden," he said. "We are also pleased to include the new Pyramid of Giza international center as a hub for our growing number of refugee and immigrant students from around the world. Plus it's natural sand dune setting exemplifies the ultimate in water-wise landscaping."
 
To boost tourism at the Heritage of the Americas Museum on campus and assure representation of the New World which wasn't discovered yet when the seven wonders were identified by t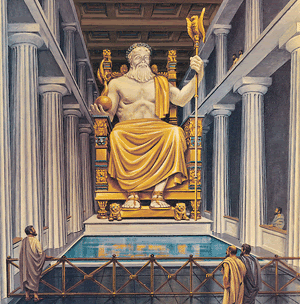 hird-century B.C. scholars at Alexandria, an eighth wonder of the ancient world will also be recreated using federal stimulus funds. Migala announced that a Mayan temple has been chosen for the project.
 
Rivalry was stiff with SDSU, which wanted to recreate an Aztec sacrificial site at its stadium. But after complaints over political incorrectness of such an exhibit, SDSU president Stephen Weber confirmed, "SDSU has instead settled on one of the original seven wonders, the statue of Zeus from Olympia, as a suitable sentinel to preside over our athletic events."
 
An open-bid process will be announced for the remaining ancient wonders, the Colossus of Rhodes and the Mausoleum of Mausollos. A tribal casino and a gay bar are reportedly vying for the former, while a prominent mega-church has expressed interested in the latter as a new eternal benefit for its members, ECM sources confirm.
 
"These ancient wonders will provide significant tourism revenues for East County, which has long lacked attractions to rival Sea World, Mission Bay and the San Diego Zoo," said Supervisor Dianne Jacob, who has agreed to donate land on her Jamul ranch for construction of a new Temple of Artemis, also known as the Temple of Diana.
 
The Great Wall of China, sometimes named an unofficial Eighth Wonder of the World, has captured the attention of Congressman Duncan Hunter. A Washington source has informed East County Magazine that Hunter aims to seek federal funds to replicate the Great Wall along unfinished sections of the U.S.-Mexican border fence to cut illegal immigration, enhance national security, and keep America safe from invading Mongol hordes. 
 
HAPPY APRIL FOOLS' DAY! 
To read more April 1, 2010 foolish news from East County Magazine, click here.