Printer-friendly version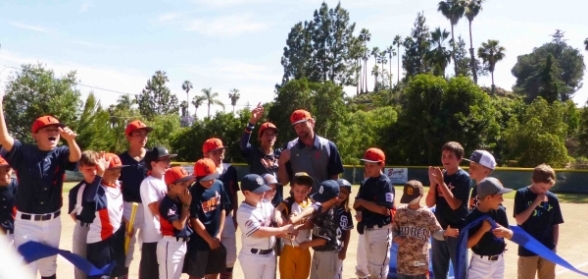 By Miriam Raftery
June 10, 2017 (Mt. Helix) – "This is a little field of dreams," Cajon de Oro Little League President Josh Bailey declared at a ribbon-cutting ceremony today at the new facility on Russell Road in the Mount Helix community.
The new  field  at 10400 Russell Road, L a Mesa serves the League's youngest  athletes:  T-ball players ages 4-6 and Rookies ages 6-7. The new T-ball and Rookies field is adjacent to the existing Mosher field for older Little League players—a field where several major and minor league baseball players got their start.
The field is owned by the Fuerte Recreation Club, which has assisted in fundraising. 
The League, now in its 60th season,  serves Mount Helix, Casa de Oro and El Cajon.  In addition to residents in those communities, any students of Avocado Elementary, Fuerte Elementary, Casa de Oro Elementary, Spring Valley Academy, and Santa Sophia Academy are eligible to play in the League. 
Coach Bailey (photo, right) calls the effort to build the new field a  "labor of baseball love."  It cost $60,000, of which $20,000 was donated by  Little League International; the rest came from generous community donors.  Supervisor Dianne Jacob also provided an equipment grant from the County.
The fields include backstops, bleachers, fencing, a snack bar and new pavement, plus other enhancements—though a few challenges remain, such as running around flooded spots after the recent rains on the lower field.  Next up,  the team hopes to raise funds for a scoreboard. "I'm pushing for a Jumbotron," Coach Bailey quips.
The site has a fascinating history.  Clyde Mosher owned a large parcel of land in the area and donated it for use of the area's children.  Through the years, the land has
housed a carousel, shooting range and Alpine luge, though those are gone now.   In recent years, a horse corral was used to benefit disabled children.
Player's cut the ribbon over home plate at today's ceremony,  where officials from the Cajon de oro League and  Fuerte Recreation Club gathered, along with players –including some on the All-Star team.
Peggy Botte (photo, left)  recalls coming here with her husband,  Lou, and their sons.  Since then her granddaughters and grandsons have also played here.  Now, she enjoys watching a n
ew generation growing up on the ball fields here.  "We absolutely love hearing cheering and the crack of a bat," she says with a smile.
The young players were also all smiles, including a young player who was the first to swat a homerun out of the new ball field.  (Photo, right)
If you would like more information on playing in the Cajon de Oro Little League or supporting the Fuerte Recreation Club's efforts, you can contact Karen Bunkell at 619-309-8867 or email fundraising@cdoll.org.
View a video of Coach Bailey talking about the new field of dreams: https://youtu.be/Hc4ZKsI94Yc