Printer-friendly version
Leaders in Latino, African-American and Native American communities defend Mayor
By Nadin Abbott
August 19, 2013 (San Diego)—They approached the podium singing "We Shall Overcome," a classic from the Civil Rights marches of the 1960s.
Enrique Morones, a community activist and supporter of Mayor Bob Filner, led them. Morones started the rally by informing the press that the silent majority "will be silent no longer." He said that many groups, ranging from labor, to neighborhoods, to veterans and women, were standing together "stopping the public mockery of our judicial system."
He asked for "due process for Mayor Filner as well as for the women accusing the Mayor of sexual harassment.  He added, "Let's get back to business of moving the region forward with Mayor Bob Filner."
Aft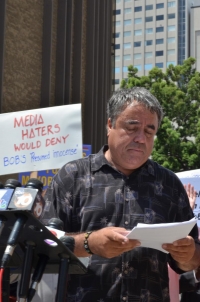 er Morones initial statement, a prayer was held, followed by more speakers.
Kathleen Harmon, a Filner campaign volunteer and long term resident of the Fourth District, had this to say.
"I stand before you today to proudly say, for 40 years I have walked with our Mayor. I walked with him when he was on the school board, I walked with him when he was in City Council, and most of all, all the years that he was in the Congress." She asked, "Why now? What is the real reason?" She added, "Is it because he went to City Hall to make a difference for poor people?"
Harmon suggested efforts to oust the Mayor may be because during the campaign, he  made clear his goal, stating,"I am coming back to change the character of our city." Harmon added, "He is standing up for everybody--not the special interests."  That includes the homeless, the poor and the disadvantaged, she said.
Harmon also accused the media of not polling South East San Diego in polls that found the majority of San Diegans want the Mayor to resign. She promised, "We are going to stand behind him. We ask him not to resign."  
Later ECM asked Harmon about Dwayne Crenshaw's statement last week that support for the Mayor in the Fourth District was collapsing. She said flatly, "He's lying." The church leaders in the Fourth District and the people remain in support of the Mayor, she believes.
Suzie Ditmars came next. "I have been a life long Democrat, and I have lived close to 50 years in this city," she said. She added, "I am appalled at the attacks on Mayor Filner, by what I can describe as pure vindictiveness on the part of his opponents." In her mind it is time for the city to move forward and allow the legally elected mayor to do his job.
"He has a vision for the city that no previous mayor has ever had," she said.   
This was a common theme from many of the speakers, who noted that the Mayor's vision is inclusive, not exclusive.
Nancy Cassady, a businesswoman, said that what was happening in City Hall was "reminiscent of the 1950s McCarthy Era." Cassady stated out that with the exception of one of the accusers, the rest have not gone to the police or filed police reports. (Note: While only one woman has filed a lawsuit, in fact attorney Gloria Allred has stated that she went with both Michelle Tyler and Peggy Shannon to talk to the detectives; moreover the Sheriffs Department has indicated that there are complaints filed. No criminal charges have been filed by law enforcement against the Mayor, however.)
http://editors.talkingpointsmemo.com/archives/2013/08/good_times_for_filner.php
Cassady reminded the audience that in the 1950s, "All one had to do was point to a person and call them a communist." People lost jobs and some went to jail.
Helen Bourne emphasized that "I believe everyone deserves due process." In her mind, "This is being spun as women being in the victim mode." Bourne added that "We are not victims, we are your sisters, your mothers, your grandmothers, and your daughters. We hold communities together, and we are voters of San Diego as well. And I don't want my energy as a woman to be used, to be portrayed as a victim, and to subvert the will of the majority of San Diego voters."
Linda Legrette President of the San Diego Unity League came next to the podium. She said that she was not here to talk about what Bob Filner may or may not have done. "I am speaking to you on my firm believe on the process." She added that this needs to be done "with due process, or we are regressing as a society."
F
loyd L. Morrow, former City Council member and City Attorney told the press that the job of the media is, as a free press, "to report not chatter and not this obscene process of the public hanging; that's not your duty."
Morrow added that "as a former City Attorney myself I know that the law requires not only due process, it requires a presumption of innocence." His criticism of the media did not stop there. "If we degenerate to the point where mud is thrown upon the wall and if it sticks, then keep throwing mud," the media has become an accessory "with those who would rule San Diego."
He added, that special interest forces "own downtown; they don't own us at the suburbs." He concluded that "we the public have a right not to have rumors, and not for somebody looking for 10 seconds of fame."
After the press conference, ECM talked with Morones. "We are here to let Mayor Filner know that we have not forgotten how Mayor Filner has been with us for the past 40 years…"He has always stood on the side of the most oppressed. He has stood side by side with many communities, sometimes the only person to stand side by our side." He added, "We want you to get back on that horse Bob Filner and continue to lead this city."
Morones also said that this was part of a right wing effort and the good old boys network to get rid of a man who is stepping on multiple toes. This was a theme heard from other supporters.
There was also one counter protester, and a few signature gatherers for the recall campaign present at the rally.
Other prominent activists from minority communities have also spoken out this week in support of the Mayor.
Rose Davis, publisher of Indian Voices, published an editorial concluding that the Mayor has been set up by land developers and monied interests.
"Filner wants to preserve the land for the people. The developers want to transform our historic downtown public tidelands and waterfront into Miami Beach. It is where the Kumeyaay fished and dug for clams and were at one with the universe," Davis wrote. 
She express concern that so many are bashing without "a shred of evidence" and noted that Todd Gloria and Nathan Fletcher, two likely successors should Filner step down, "are favorites of unions and downtown developers who are focused on developing our historic downtown public tidelands. Gloria and Fletcher do not share Bob's proven affinity for neighborhoods and international outreach."
She voiced belief that the Mayor can overcome "personal failings" because he has historically championed women's rights and civil rights, even being beat up while standing up to the Ku Klux Klan.  "It is now time for us to pay him back with our loyalty and support," she concluded.   
Carroll Waymon, a prominent Civil Rights leader, recalled horrific actions performed by whites, including raping black women and murdering black men in the pre-Civil Rights era south.  "Young Bob Filner at 19 joined his elders to pray that these criminals and others could be forgiven so that all men and women of whatever credd could live again in peace with one another," Waymon recalled. "How ironic!"
Waymon said he does not condone Filner's behavior, but wants it viewed in context.  "Remember, black women were not just `touched improperly!' They were raped over and over against their will by white men—day in and day out," he wrote in an email sent to media outlets Friday.  "And now these women in San Diego are unable to move beyond protesting `improper advances or touching' even after the mayor has publicly acknowledged his 'wrongs'?" the long-time Civil Rights advocate wrote.