Printer-friendly version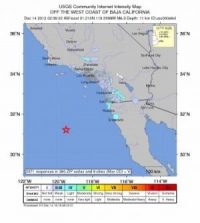 December 14, 2012 (San Diego)—Residents across San Diego County were awakened at 2:36 a.m. by a 6.3 earthquake centered 172 miles to the southwest, off the coast of Mexico.
The quake struck at a depth of seven miles.  Aftershocks have occurred, the strongest measuring 4.7.  No tsunami warnings have been issued.
According to the U.S. Geological Survey, the temblor occurred due to "shallow normal faulting within the oceanic lithosphere of the Pacific plate." 
It is not related to the San Andreas fault system farther northest.  Instead the quake reflects "intraplate faulting along northeast-southwest trending normal faults" just west of California's continental shelf.
Mexico is one of the world's most seismologically active regions as the area west of the Gulf of California, including the Baja California Peninsula, is slowing moving northwestward at 50 milimeters a year, creating strike-slip faulting as two plates grind against each other. Similar action is what pulled Baja California away from the coast, forming the Gulf of Mexico, according to the USGS.