Printer-friendly version
Ex-inmate and author of I Was...I Am  is now an advocate for the formerly incarcerated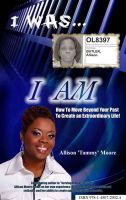 By Dennis Moore
November 30, 2010 (San Diego) -- Author Allison "Tammy" Moore will bring her message of hope and redemption to San Diego during the Christmas season, speaking at an Urban League reception as well as to women prisoners at Las Colinas and a church prison ministry group.
The formerly incarcerated woman and author of I Was...I Am will be hosted by San Diego County Urban League in a reception on December 13th as part of the Urban League's Women's Re-Entry event and  holiday Toy Drive. Other community and women's advocacy groups will join the Urban League in welcoming the author to San Diego, where she will also appear at seveal other events.
The next day, Tuesday, December 14, Moore will be hosted by the San Diego County Sheriff's Department and will speak to a group of women at the Las Colinas Women's Detention Center to deliver a message of hope and redemption in the midst of seemingly hopelessness. Ms. Moore will speak on "How to Move Beyond Your Past to Create an Extraordinary Life," the theme of her book (See ECM's review, September 12, 2010).
Later that day, Moore will make a presentation and book signing before the Bethel A.M.E. Prison Ministry at the Tubman/Chavez Center. Her presentation will focus on reducing recidivism among formerly incarcerated women and improving their quality of life.
Moore, the founder/Ceo of "In His Presence Ministries," will begin her sojourn in San Diego by worshiping at Bethel Memorial A.M.E. Church on Sunday, December 12, 2010, where Anthony L. Hughes is Pastor. It will be on a day when the Church will be celebrating their Christmas musical.
Moore states it is her desire to shed light on the perils of re-entry, specifically regarding the female ex-offender. She believes the traditional methods, which are mostly modeled after the male offender, are not as effective, because of the specific needs of a woman being different from that of a man. She hopes to compel all those involved in the prison system, post and pre-sentencing, to consider new ways of reducing recidivism and developing alternatives to prison for non-violent offenders. She states: "If we heal a woman - we change the course of a family. If we change the course of a family - we create change in our community. If we create change in our communities - we can eventually change the cities, the states, and the nation." It is Moore's desire to be the catalyst for change in this matter.
Moore states that "In His Presence Ministries" seeks to educate and train the Church to reach out to their Christian sisters as they exit the prison gate, through their "Meet Her at the Gate" program. She gives sobering statistics, indicating that nearly 115,800 women are in state or federal prisons alone, more than 7% of the total U.S. prison population of over 1.6 million.
The "Meet Her at the Gate" program involves forming a Post-Prison Ministry committee that will include one or more mentors for the ex-prisoners and a Church liaison. These individuals will work more closely with the ex-prisoner (or "Christian Neighbor" as he or she is referred to). The whole congregation, however, accepts the responsibility of welcoming and loving the Christian neighbor, and the program begins before the prisoner's release. The committee works with "In His Presence Ministries" to select a Christian neighbor and, once selected, the committee and church members begin correspondence. In His Presence Ministries recommends visits as well, something Bethel A.M.E. Prison Ministry is already doing, if at all possible. When the prisoner is released, her primary mentor and others from the church meet her "at the gate" - literally. The committee will have arranged for all of the Christian neighbor's basic needs - housing, food, clothing, etc.
Moore believes that her program is an ideal way for an entire church and community to be involved in a ministry that is intense and life-changing for all involved, as it gives many in the church and community ways to be involved and welcomes the ex-prisoner into a nurturing environment where he or she is treated not as a project or a celebrity, but as a new fellow believer. Allison Moore is a perfect example and advocate of this; her transformation from formerly incarcerated inmate to advocate for released prisoners provides inspiration for all.