Printer-friendly version
By Miriam Raftery
October 20, 2010 (La Mesa) – Richard Monroy and Jim Miller, candidates for San Diego Superior Court Seat 20, answered audience questions at a candidate forum sponsored by the Foothills Bar Association in La Mesa on October 14th.
Monroy, a San Diego County Deputy District Attorney for 22 years, serves as ethics advisor in the D.A.'s Appellate Division. Miller, an attorney with criminal and civil law experience, also serves as a judge pro tem, arbitrator, and agent representing National Football League players. Both fielded questions from an audience of attorneys, the general public, and media.
Judicial candidates are prohibited by the California Code of Judicial Ethics from answering questions on specific cases or issues that could come before them on the bench. Still, audience members managed to glean some clear differences between the two contenders.
Monroy emphasized his extensive experience in the D.A.'s office. "I've prosecuted large-scale narcotics and drug cartel homicide cases," he said, adding that he also served as chief of a unit prosecuting gang crimes, prosecuted political corruption cases, headed up special operations, and is proud to have served as vice president of the Deputy District Attorneys Association. He's been an instructor for the Drug Enforcement Association, Federal Bureau of Investigation, San Diego Police and San Diego County Sheriff's departments. He holds a law degree from the University of Southern California, a bachelor's degree from University of California, San Diego, and served as a law clerk for the Honorable Earl B. Gilliam, the first African-American judge in the U.S. District Court's Southern District in San Diego.
Miller noted that 90% of judges on the San Diego County Superior Court are former prosecutors and that judges with a broader base of experience are needed. He noted that the bench covers family, civil, probate, and juvenile cases as well as criminal law. "I have both criminal and civil experience, and I have federal and state court trial experience," he said, adding that he took over 75 family law cases when his father, attorney Jim Miller Sr., died suddenly last year. Miller holds a law degree from Thomas Jefferson School of Law and a bachelor's degree from San Diego State University.  "We need judges with real life experience," he said, adding that judges should be "able to walk into any department and have a foundation." 
Monroy countered, "I do have civil experience." He noted that judges go to judges' school with specialty classes in various areas of the law where they will serve on the bench, such as civil or juvenile, and that he has conducted civil forfeiture hearings and spent two years handling juvenile court cases. He also emphasized that he has worked with crime victims and those who lost loved ones to crimes. "I have sat with victims in their living rooms…and I have spent months working to put someone behind bars," he said, adding that he has testified as an expert in federal court.  He also gained court experience as a law clerk for Judge Earl B. Gilliam.  "I genuinely believe that I would do an excellent job for this community, and I have done so."
Asked to describe their judicial philosophies, Monroy replied, "Facts are facts; law is law. I'm there to interpret the facts of the case and respect for the Constitution."
Miller described his judicial philosophy this way, "Justice Scalia is who I most want to emulate," he said, adding, "Constitutional law must come first."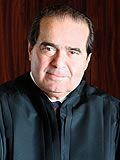 Justice Antonin Scalia, appointed by President Ronald Reagan to the U.S. Supreme Court, describes himself as an "originalist" for his strict adherence to the Constitution. Anchor of conservatives on the court, he has favored strong powers for the executive branch, cast the deciding vote in Bush v. Gore to end ballot-counting in Florida during the disputed presidential election, supported the President's right to suspend habeus corpus, opposes abortion rights and other rights he believes are not not guaranteed in the Constitution. He once told students at the University of California's Hastings College of Law that ""If the current society wants to outlaw discrimination by sex, you have legislatures." Scalia, asked once how he squared his views with the Brown v.the Board of Education decision overturning segregated schools based on the Fourteenth Amendment and indicated that he would have voted against requiring desegregation. Recently, he voted to allow virtually unlimited corporate funding of political campaign advertising.
 
Monroy is endorsed by over two dozen judges, San Diego District Attorney Bonnie Dumanis, Supervisors Dianne Jacob and Greg Cox, dozens of deputy district attorneys, San Diego City Attorney Jan Goldsmith, Chief Deputy Henry Coker (San Diego County Public Defender), former Sheriff Bill Kolender, U.S. Attorney Pat O'Toole, the San Diego Deputy District Attorneys Association, the Deputy Sheriffs Association of San Diego, numerous police associations from local cities, and San Diegans Against Crime. Monroy does not list partisan affiliations in this nonpartisan race.
 
Miller however touts his endorsement by the San Diego Republican Party, the new Reagan Patriots, Assemblymen Joel Anderson and Nathan Fletcher and other elected Republican officials as well as the San Diego County Gun Rights Commission, San Diego Off-Road Coalition, Associated Builders and Contractors, six Superior Court judges, various attorneys, La Mesa and Chula Vista firefighters, and private companies such as Drew Ford, Reynolds Construction, and the Pacific Building Group.
Both candidates are married with children, and both have long ties to the San Diego area.
Both candidates felt budget cuts at the state level have created a serious problem impacting the court system.
 
"There are not enough judges to go around," Monroy said.  He also sees a lack of computerization of court records as a problem in San Diego's court systems. "We are still mired in paper and cutting down trees."
 
Miller noted that "as a judge pro tem I see a doubling since 2007 in basic civil trial load per department…This is a bottleneck because of our economy." He suggested that the Legislature should improve efficiency by increasing the jurisdictional amount of claims that can be brought in Small Claims Court from $7,500 to $10,000 and allowing people to recover up to $300 or $400 for consulting an attorney on Small Claims matters. He said his experience running a trial calendar as a judge pro tem, with four to 14 trials a day, would help him be efficient as a judge.
Monroy countered that as a deputy D.A. he has had to handle 75 to 80 cases in a day.
 
Miller referred to the court system as "the public relations arm of the government" that the public sees when appearing in court for traffic tickets, serving on a jury, and so forth.
Both candidates would agree to allowing continuance requests to be made in advance to speed up the court docket. Both expressed empathy for attorneys juggling multiple cases the same day, sometimes in different jurisdictions.
 
Asked "What will make you a good judge if elected?" Miller replied, "I will be a lawyer's judge."
 
Monroy concluded, "The bottom line for me is respect and ethics. I will treat you with respect."
Moderator Mark Raftery, a Director of the Foothills Bar Association, encouraged the audience to vote. "The primary battle between these two candidates was very close. Your vote will count."
For more information on Richard Monroy, visit www.richardmonroyforjudge.com.
 
For more information on Jim Miller, visit www.jimmillerforjudge.com.