Printer-friendly version
I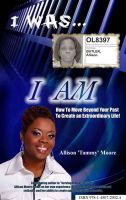 Was … I Am, How to Move Beyond Your Past to Create an Extraordinary Life, by Allison 'Tammy' Moore, (Wilmington, Delaware, 2010, 338 pages.)


Book Review by Dennis Moore
September 12, 2010 (San Diego's East County) -- Allison 'Tammy' Moore has written what at times seems like a tragicomedy: I Was … I Am. In reality, it is her story of incarceration, and how she used the experience to become a better and stronger person.
After being released from prison and her subsequent parole, Moore and her husband started a prison ministry that has helped hundreds of women find their way. Her Ministry is part of the International Network of Prison Ministry (INPM). She has traveled the world telling her powerful story.
While in prison, she came to this conclusion.  "Instead of burying your head in the sand, write in it. Instead of trapping yourself in repetitive destruction, with God's help, free yourself from the self imposed prison, change yourself and the world. It doesn't matter that you messed up. I don't know what your obstacles are, but I know that whatever they may be, God can use them."
In her book, you will read her story; her journey back to God.
Prior to her incarceration, Moore writes of numerous failed relationships with a sordid cast of men, one in particular almost 10 years her junior. She writes that the relationship lasted off and on through fights with his "baby mamma," two more baby mammas, drug charges, gun charges, and murder charges. "After helping him prove his innocence I thought sure that would be it," Moore wrote. "Three abortions later, after showing up at a visit and being denied only to let the other girl in ….I still didn't have enough." She referred to this as love. This, on top of being put up for adoption as a child along with her other siblings, certainly could have contributed to the emotional scars that she bore. A counselor alluded to those scars during a subsequent sentencing phase for her incarceration.
Moore spent a few weeks in prison for a probation violation for having urine with opiates, although she indicates that it was a false reading. She writes separately of being accused of scamming people out of their money, and of facing a long prison sentence for some other banking con. She writes in her book of her earliest instances of stealing, this "addiction," she likes to call it, stealing from her father and later from a retail store that she worked at. Some might call it pathological. Her sister was a partner in crime in the retail store thefts, and suffered the consequences of getting caught.
This book is a must-read for those who are behind bars or recently released and truly want to build their life back as a respectable and free member of society. It is a book of hope and encouragement. Moore writes in I was …I Am: "As I progressed in writing this book, I grew, I changed. As it happened, I recorded it. As God revealed it, he not only exposed the wounds; He cleansed them. He healed the hurts and allowed me to see things from His perspective and not my own. While confined in a prison cell, I was made free. Whether you are in a physical prison or a mental prison of your own design, you can change. There is nothing too hard for God. He did it for me and He will do it for you, you just have to believe."
During the sentencing phase of Moore's incarceration, she speculated that a counselor's diagnosis of "theft addiction-no criminal intent stemming from emotional issues" would have been persuasive enough to keep her from going to prison. That was not to be the case. Moore is quite candid about an addiction that landed her in prison. She is even more graphic about her initial entry into prison, and her stay there, as she states; "I am listed as Inmate OL8397. Prison has been my home for six months now. I have seen things that I never would have imagined. I've seen straight girls being turned out, women who called themselves, look like and move like men. I've seen sex in the shower, in the yard and in the cell. I've watched women kiss passionately in corners, cry during separation and being handcuffed and escorted and taken to the RHU for fighting. I've heard more racial slurs, pick up lines and the F-word more than I can count. I've seen the greatest level of disrespect between officer and inmate, women being treated like trash, talked to like a child, called skanks and crack heads and I've seen some totally ignored." She has written a sobering account of life in prison, but more importantly, her spiritual transformation as a result of it.
Moore indicates in her book that she is better off as a result of her time in prison. "I am more sympathetic and compassionate toward others. From where I sit, it is more difficult to judge. I am sitting at a table with those who have seen the unimaginable, witnessed the indescribable, and committed crimes unthinkable. I am where we are all the same. (writing from prison). Funny … that's the way God sees us. His eyes are like these eyes. I am no different from Karen who killed her husband … Melanie who buried her baby alive … Amy who molested a young boy … Juanita who has 25 counts of prostitution … Maryanne who robbed a bank with her husband … Tonya who set her lover's apartment building on fire," she concluded. "I am compassionate for those who are sentenced to life, 20 to 30 years, 10 to 20 years, 5 to 10 years, 2 to 4 years and 1 to 2 years. I am more understanding of those who leave and violate and come right back."
Moore questions her early relationship with God. "As a little girl, I did not think that God was fair. I mean, he took my Mommy and Daddy when I needed them the most. I believed he answered prayers but that was a scary thing to me. I watched Mommy ask God to take away the pain… He did, I felt like he gave it to me."
As she grew older, she went to church because she was expected to do so, reciting rehearsed prayers she had been taught. " I watched people fall out and call on Jesus and it frightened me. I listened to what the Pastor said because he was closer to God than me. I believed he knew the Bible and I didn't," she recalled. "God wasn't fair. In my opinion, he only helped when the pain was so bad, and there was absolutely no other way out. Deep down, I think I anticipated trudging through hell before God would help me into heaven…. I did not know him as a God of love, peace and protection. I knew him as selfish, partial, and one who inflicted retributive suffering according to his attitude."
It took prison for the author's viewpoint to change. I highly recommend her book.
Dennis Moore is a member of the San Diego Writers/Editors Guild. He has written for LifeAfter50 Magazine in Pasadena, California, and the Baja Times newspaper in Rosarito Beach, Mexico. He is also the President of Bethel Memorial A.M.E. Prison Ministry in San Diego, California. He can be contacted at contractsagency@gmail.com or you can follow him on Twitter at: @DennisMoore8.