Printer-friendly version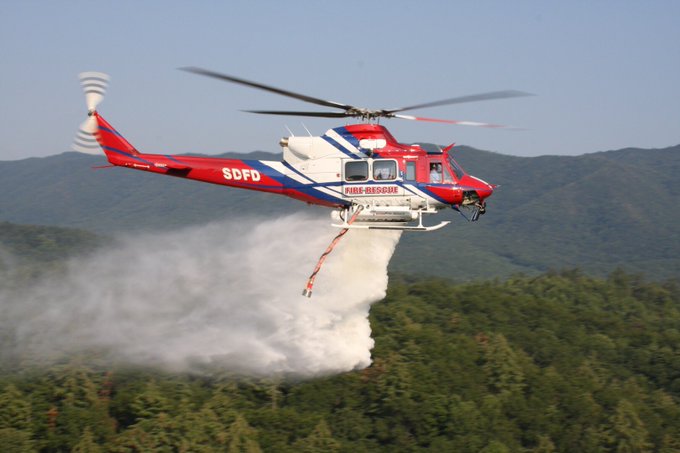 Photo: San Diego Fire and Rescue
Update August 2, 2019 ,11 a.m.  The Caliente Fire is 60% contained at 490 acres. An arson investigation is underway; Fox 5 interviewed a witness who saw teen boys fleeing scene when the fire began.  NBC 7 reports two businesses burned, but no homes were lost.
Update August 1, 2019, 8 p.m.  The fire has burned 490 acres and is 50% contained. Around 70 structures were evacuated but none were lost. A pallet fire caused explosions, but no one was injured, Chula Vista Fire reports. Evacuation orders have been lifted and all roads are now open.
Update 2:45 p.m.  The fire is named #CalienteFire.  It is now 130 acres with potential for 200 acres.  Voluntary evacuation notices have been issued south of 905 and west of Cactus Road, mostly to industrial businesses but also some homes, San Diego Police reports.  Forward spread has been halted, according to the San Diego Fire Dept. There are 3 brush strike teams and many regional resources working to stop the fire.
East County Wildfire and Emergency Alerts
August 1, 2019 (Otay Mesa) -- A brush fire in Otay Mesa has charred 110 acres as of 1:30 p.m. today.  The fire is burning to the southeast, close to the international border, the San Diego Fire Department reports.
The blaze began in the 5300 block of Airway Road near San Ysidro High School and an apartment complex, but no structures are currently threatened, according to fire officials.
Sign up at the top right side of our homepage to receive free East County Wildfire & Emergency Alerts via email, and you can also receive our free weekly e-newsletter with top news and events in East County. You can also follow EastCountyAlert on Twitter for brief text alerts on your mobile phone. We recommend all of the above since you don't know which form of communication will work best in a major regional emergency.