Printer-friendly version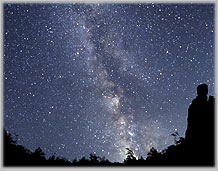 November 6, 2010 (Borrego Springs) -- Dennis Mammana, famed astronomer, night-sky photographer and syndicated columnist, will offer a series of classes in stargazing in the Anza-Borrego Desert. Courses range from the basics of star map reading to tips on watching the upcoming Geminoid Meteor Shower. An overnight camping trip is also planned.
Scroll down for a complete list of classes.
The Fall Evening Sky
 
Saturday November 27, 2010 at 4:00 p.m.
Borrego Springs, California
Ever wonder how astronomers can peer into the starry night sky and know exactly what they're seeing? Join noted astronomer and syndicated columnist Dennis Mammana for this enlightening class. Here you'll learn how to read a basic star map, how to use your eyes like a pro, and how to find those seemingly impossible star patterns once and for all! Program begins at 4 p.m. at the Anza-Borrego Desert Natural History Association Library in Borrego Springs.
Later in the evening—at 7:30 p.m.—you can try out your new skills under the real autumn night sky, as Jim and Grace Rickard share with the public their telescopes and celestial expertise at the Borrego Springs Lutheran Church.
For more information, visit http://www.abdnha.org/pages/07/1011.htm#mammana or call 760.767.3099 for reservations.
The Stars Belong to Everyone
Saturday, November 27, 2010 at 7:00 p.m. PST
Borrego Springs, California
The seventh annual outdoor Desert Skies Lectures Series at the Anza-Borrego Desert State Park Visitor Center amphitheater continues at 7:00 p.m. on Saturday, November 27.
People are fascinated by astronomy, yet many in today's world are captivated not by the natural, but by the supernatural of this amazing science. In this light-hearted look at astronomy in our popular culture, noted astronomer and syndicated columnist Dennis Mammana will show why the stars really do belong to everyone.
After the presentations, view the wonders of the heavens through a telescope, weather permitting. Please dress warmly and bring a blanket on which to sit. While it isn't necessary, feel free to bring binoculars and a flashlight with red lens or covering to protect night vision.
For more information visit http://theabf.org/event/lectures/stars_belong_everyone or call the Anza-Borrego Desert Institute at 760.767.4063.

Rain of Fire!
 
Sunday, November 28, 2010 at 6:30 p.m. PST
Borrego Springs, California
The Sunday Stargazing at the Springs lecture series continues at 6:30 p.m. on November 28, 2010 with this program about the upcoming Geminid meteor shower.
December nights in the desert… what a magnificent time for stargazing, especially when shooting stars are raining down from mid-December's Geminid meteor shower. Discover the origins of the year's best shower, why it returns annually, and how to watch it successfully.
The evening begins with a light dinner, followed by the presentation by noted astronomer and syndicated columnist Dennis Mammana. Then it's out to the Springs' Astronomy Park for some telescope viewing of the magnificent desert sky (weather permitting) with expert amateur astronomers.
For more information and reservations, call the Springs at Borrego RV Resort at 760.767.0004 or visit: http://www.springsatborrego.com/stars.php No RV is necessary to enjoy the program.
Desert Stargazing Campout
 
Saturday/Sunday, December 4/5, 2010
Borrego Springs, California
Noted astronomer and syndicated columnist Dennis Mammana, along with California Overland Desert Excursions, will hold an exciting overnight desert campout on Saturday/Sunday, December 4/5. And few places enjoy a sky as star-studded as the Anza-Borrego Desert and Borrego Springs—one of USA Today's Top Ten Stargazing Locations, and California's first (and only) official International Dark-Sky Community.
After a stirring excursion through the rugged Borrego Badlands in open-air jeeps and former military vehicles, a mouth-watering chuck wagon dinner, campfire and S'mores, and more, Mammana will offer a captivating tour of the heavens with eye and telescope.
Weekend includes the above, all camping gear, gourmet chuck wagon dinner and full hot breakfast the next morning, and much more. All you need to bring is some warm clothing, a pillow, and a sense of adventure!
Advanced reservations are required. For more information or reservations, call Joe Raffetto toll-free at 866.6.EXPLORE or 760.767.1232, or visit online at http://www.californiaoverland.com and scroll down to "Upcoming Events".
Booking rapidly, so don't delay!
About Dennis Mammana:
For nearly four decades, Dennis Mammana has brought the wonder and mystery of the cosmos to audiences around the world. He is a nationally syndicated columnist, a popular lecturer, and an invited member of TWAN (The World At Night)—an international team of the world's most highly-acclaimed night sky photographers. He can be visited online at dennismammana.com.
About Borrego Springs:
 
Located in the heart of Southern California's Anza-Borrego Desert, Borrego Springs has long been a haven for amateur astronomers. It has been designated by "USA Today" as one of the nation's top ten stargazing locations, and in 2009 it was named as California's first International Dark Sky Community by the International Dark Sky Association.
For more information, contact Dennis Mammana at 760.767.3656, mammana@skyscapes.com
http://www.dennismammana.com.