Printer-friendly version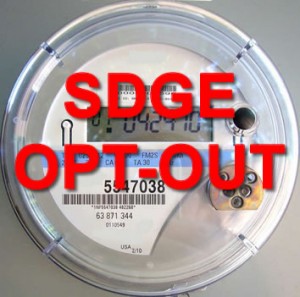 By Miriam Raftery

La Mesa leader in anti-smart meter movement says plan offers relief, but does not go far enough

April 19, 2012 (San Diego's East County) – Ratepayers now have the right to have a smart meter removed from their homes—provided they pay a $75 removal fee and $10 a month  fee to read their meter (for low income users, the rate is $10/removal and $5/month). 
Consumers who do not yet have smart meters and are on a "delay" list will have to make clear anew that they wish to opt out, or smart meters may be installed.
The California Public Utilities Commission today unanimously approved opt-out proposals for both San Diego Gas & Electric and Southern California Edison.   
SDG&E customers who pay the fee may opt out to an analog meter that does not produce RF microwave radiation emissions, which have sparked health concerns among some consumers. 
Susan Brinchman of La Mesa, founder of the Center for Electrosmog Prevention and a statewide leader in efforts to halt use of the devices, says the CPUC decision is "an incomplete, interim plan that will provide some relief, but does not address exposure from neighboring meters."
She hopes to ultimately see a zone of safety established around homes on request. She also opposes fees for opting out and believes SDG&E's investors should cover the costs. She also wants to see commercial meters included and ultimately, have all RF-emitting meters banned and replaced with analog meters.
Still, the ruling will bring a welcome reprieve for Brinchman, whose doctor attributes her health symptoms to the proximity to a smart meter installed at her home."
"I look forward to sleeping in a bed, which I haven't done for a year and a half," she said, La Mesa Patch reported. "I will actually be able to go into my own bedroom and get the clothes in there, enjoy that place that used to be a place of comfort and rest, not a source of nightmarish headaches and pain."
 
CPUC president Michael Peevey said of today's decision, "As we move toward a more advanced electricity grid, smart meters will offer customers real benefits. However, if a customer does not want to have a smart meter, our decision today gives that option." Smart meters allow residents to track their energy usage. 
In June, a second phase of proceedings will consider whether to allow entire local communities and customers in multi-family dwellings to opt-out as a group and to consider whether to revise costs.
Lawsuits over fees are anticipated, since CPUC Code Section 453 prohibits charging extra fees for safety and services.
To opt out, contact info@sdge.com. 
To view the proposal that was approved, see http://docs.cpuc.ca.gov/word_pdf/AGENDA_DECISION/164057.pdf. 
To learn more, visit http://www.electrosmogprevention.org/stop-ca-smart-meter-news/cpuc-passes-sdge-sce-opt-out-plans-41912/.