Printer-friendly version
June 10, 2016 (Borrego)—If you felt the earth move under your feet, that's because a series of earthquakes struck in the Borrego Spring area including a 5.2 quake at 1:03 a.m.at a shallow depth or less than 1 kilometer along theSan Jacinto Fault.  Aftershocks as strong as 3.5 also rattled the area according to the U.S.. Geological Survey.
(Note: The USGS originally reported two strong quakes, 5.1 and 5.2, a minute apart but have since corrected the data to indicate this was just one major quake.)
Rocks are reported blocking the roadway on Montezuma Valley Road, per the CHP site.  There are no reports of serious damage as yet, though items felloff store shelves in La Quinta, a Lakeside resident reported a laptop fell to the ground and the screen broke. As far away as Downey, books reportedly fell off shelves.
We have reports the quakes were felt strongly across the San Diego region and as far away as the San Fernando Valley.  The quakes struck at a shallow depths near major fault lines capable of producing a 7.0 quake or higher. 
If you know of damage, impacts to roadways or other effects of the quake or have photos, contact editor@eastcountymagzine.org. You can also post in our commentsbelow.
Below are details:
SoCal Earthquakes ‏@SoCalEq 9m9 minutes ago California, USA
USGS reports a M5.09 #earthquake 22km NNW of Borrego Springs, California on 6/10/16 @ 8:04:38 UTC http://earthquake.usgs.gov/earthquakes/eventpage/ci37374687 … #quake
·  2.8 23km ESE of Anza, California 2016-06-10 08:07:33 UTC 12.0 km
·  3.0 24km NNW of Borrego Springs, CA 2016-06-10 08:07:11 UTC 12.3 km
·  3.5 22km NNW of Borrego Springs, California 2016-06-10 08:06:22 UTC 10.8 km
·  5.2 21km N of Borrego Springs, California 2016-06-10 08:05:35 UTC 12.0 km
·  5.1 22km NNW of Borrego Springs, California 2016-06-10 08:04:38 UTC -1.4 km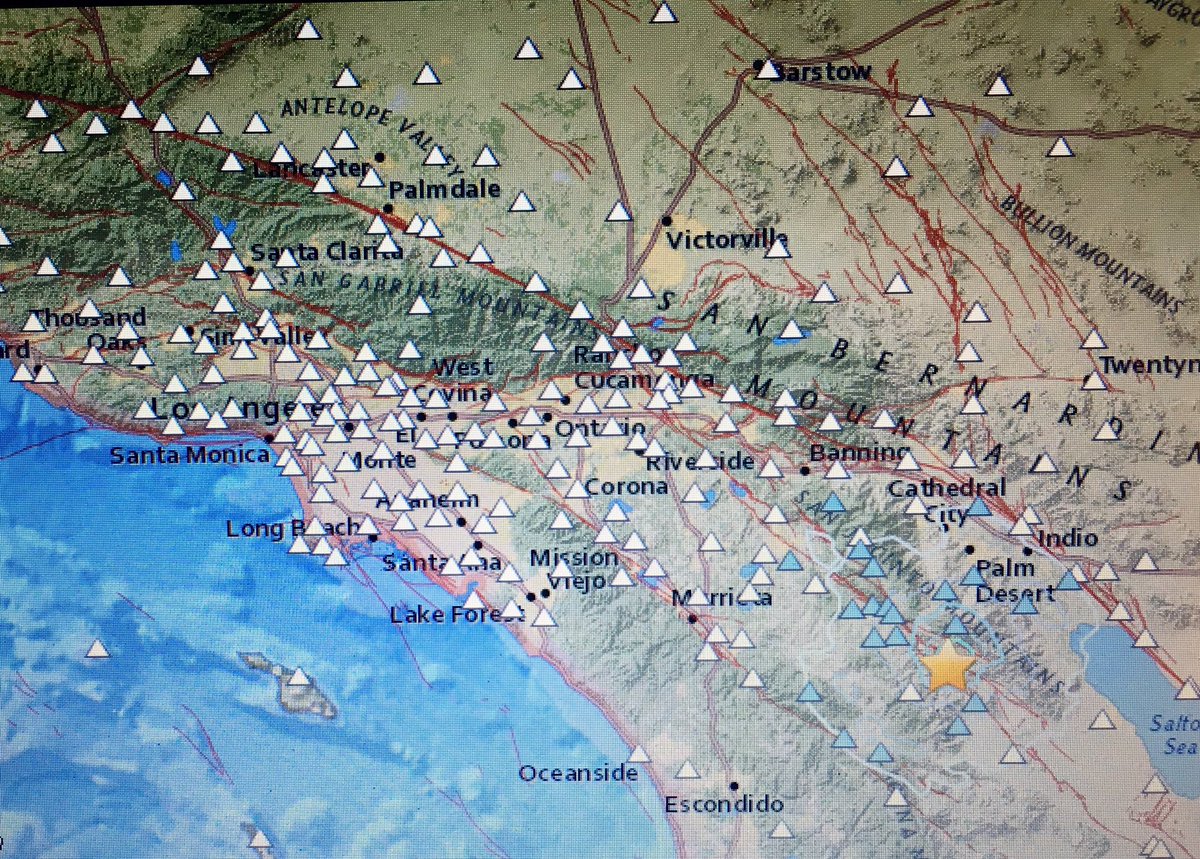 UPDATE: Aftershocks are being felt hundreds of miles away in the Los Angeles area: