Printer-friendly version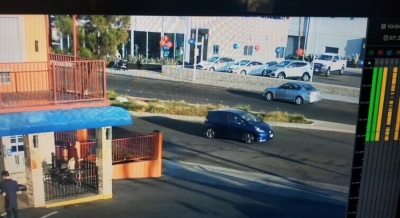 ECM photographer who aided victim gives eyewitness account of accident he calls "heartbreaking," calls for more funds for police to enforce traffic laws
By Miriam Raftery
Photo: Suspect vehicle, from surveillance footage
Update October 5, 2018 -- An arrest has been made in this case.  Read details here. 
October 4, 2018 (El Cajon) – A 9-year-old boy on a bicycle was hit and seriously injured this morning while crossing an intersection at Main Street and Sunshine Avenue. Police are seeking a woman described by witnesses as possibly blond and driving a blue hatchback or SUV, possibly a Honda Fit, who fled the scene of the accident.
ECM photographer Robert Gehr was walking home from the post office between 7:30 and 8 a.m. when he saw the boy ride past him, press a button and wait for the green light, then ride across the intersection. He witnessed the vehicle strike the child.
 "I saw a glimpse of a car speeding at probably about 40.  It blew through the red light and did not stop, then kept going eastbound on Main toward Magnolia," he said, adding that his focus was on the victim knocked onto the roadway.
"I ran up to him. He was barely moving," he recalls. "I told him to stay still and put my hand on his back and started to give him words of comfort. His breathing was shallow; he was gasping for breath. He was bleeding from his nose and there was a profusion of blood coming from his head area, even though he was wearing a helmet. His eyes were closed and he was out of it."
Gehr said a young woman called 911 and so did others.  "She was really shook up," he said, adding that the woman helped go throught he boy's backpak looking for ID.
Paramedics arrived and cut off the boy's shirt and helmet, then loaded him onto a backboard. He was transported by ambulance to a local hospital; no update on his condition is available. The boy's identity is being withheld, according to an ECPD press release.
Anyone with information is asked to call ECPD at (619) 579-3311.
Gehr said the boy had a backpack on and was riding a dark BMX bicycle. "He may have been going to school at nearby Johnson Elementary School.
Gehr described the vehicle as a four-door dark blue vehicle, possibly a small SUV, last seen heading eastbound on Main toward Magnolia. He said only two people stopped to give witness statements to police.
"The police said they will be reviewing surveillance video at that intersection," said Gehr, adding that the vehicle probably has damage to the front right passenger side.
"At least he had a helmet on," he said of the boy, adding, "It may have saved his life."
Gehr voiced anger at drivers who speed through El Cajon, which has a high number of pedestrian deaths and serious injuries despite efforts by police to educate pedestrians and drivers on safety.
He faults police for not being "out there being proactive. I think it's a failure on the part of El Cajon Police, or maybe the city is not giving them enough money. Why the hell can't we have enough officers out there observing things on a street level?" he says, adding that in the bay area, some officers dress as pedestrians or homeless people, equipped with radar to cite drivers who speed or violate traffic laws.
He has a point.  In 2015, an ECM special report published records obtained from El Cajon indicated that the city had 17 fatal accidents from 2011 through 2014, including seven on Main or East Main streets. Subsequently, El Cajon Police held public safety outreach meetings in an effort to reduce pedestrian injuries and deaths, but fatalities have continued to occur.
Gehr says the weather was overcast but dry at the time of the accident.
"This is the nightmare I hoped I would never have seen," he says.  "This didn't have to happen – it's heartbreaking."