Printer-friendly version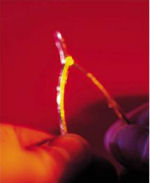 By Paula H. Dickenson, Crime Prevention, Alpine Sheriff's Station
December 4, 2012 (Alpine) – The Sheriff's Deputies from Alpine and East County Rural, wish everyone a safe and joyous holiday season!  It is a privilege to serve and inspiring to be part of a community that has a genuine concern for one another and especially for those who are less fortunate.  We take this opportunity to count our blessings, especially those that we serve.
The holidays are a special time of year, but also a time when busy people become vulnerable to theft and other crimes. Even though you are rushed and thinking about a thousand things, we urge you to stay alert.  Criminals do not take a holiday and look for opportunities to victimize you!  The following reminders and safety tips are our gifts to you:
• Teach your children to go to a store clerk and ask for help if you become separated while shopping.  They should never go to the parking lot or the car alone.

• Avoid carrying large amounts of cash.  Pay for purchases with a check or credit card when possible.  Avoid identity theft by carrying only those credit cards you will use.

• Be extra careful with purses and wallets, they are easy targets for pickpockets.

• Always roll up your vehicle windows and lock the doors.  Leave nothing of value in your unattended vehicle.

• Avoid overloading yourself with packages.  Freedom of motion avoids mishaps.

• When hosting a party, have non-alcoholic beverages available for guests.

• Find alternative transportation for intoxicated guests.

• When going to a party, eat high protein foods (meat, cheese, eggs, sausage, biscuits and gravy, or pork rinds) that will stay in your stomach long and slow the absorption of alcohol into your system.  Remember, only time will eliminate alcohol from your body - know your safe limit.

• NEVER DRINK AND DRIVE.
Have a Safe Holiday Season!  Report Suspicious Activity:  1 858 565-5200!