Printer-friendly version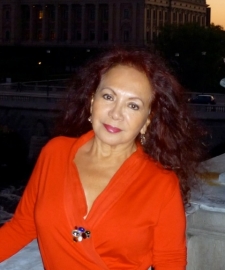 By Dennis Moore
April 16, 2015 (San Diego's East County) - Nuria Garcia Arteaga, whom this writer had the honor of writing a review of her publication Love Marathon in the East County Magazine, has taken a long and circuitous route to attend and participate in the 20th Annual Los Angeles Times "Festival of Books" at USC. She has traveled thousands of miles to showcase her artistry at this event. Now living in The Netherlands, but originally from Peru, this author and entertainer will bring to the "Festival of Books" a dazzling compilation of music and literature. Click to view.
Arteaga sets the tone for her emotional and heartfelt stories by utilizing music and the theme of the epigraph in Love Marathon. She defines herself as a mix of cultures and races, with her father being African American and her mother Peruvian, and her ability to speak 6 languages. One could easily say that music plays a big part in everything she does, including her book(s). She states that she listens to music when writing and makes music that could serve as background for the readers. Click here to listen to "Love Bruises."
While in Peru, just prior to coming to LA and the "Festival of Books", the author prepared CDs and literary brochures, along with her books, that she will make available to everyone at her booth. She is coming prepared to inform and entertain at the Festival of Books (FOB) scheduled for this Saturday and Sunday, April 18th and 19th, along with a DVD player in her booth. Her booth may very well be the most informative and entertaining booth at this event, with the music and video compilations that she will provide, as well as her book Love Marathon. As the Associate Editor of the East County Magazine, I definitely plan to be there to help Nuria to promote her material, and I will be encouraging everyone I know to stop by her booth to obtain some of her material.
The author will be in good company at this prestigious event, as Academy Award winning actress Octavia Spencer (The Help), will also be there reading and discussing her book, as well as Malcolm Gladwell, the #1 bestselling author and phenomenally popular TED Talks speaker. This 20th annual Festival of Books is expected to eclipse last year's 150,000 attendees, which I was fortunate to attend.
Arteaga's booth, #353, can be found near the "Tommy Trojan" statue on the USC campus, and just across from the "HOY" booth, the Spanish language newspaper of the Los Angeles Times.
Dennis Moore is the Associate Editor for the East County Magazine in San Diego and the book review editor for SDWriteway, an online newsletter for writers in San Diego that has partnered with the East County Magazine, along with being a freelance contributor to EURweb based out of Los Angeles. He can be contacted at contractsagency@gmail.com or you can follow him on Twitter at: @DennisMoore8.