Printer-friendly version
By Miriam Raftery
July 13, 2019 (Julian) – A visit to artist and architectural designer James Hubbell's property atop a hill overlooking the Volcan Mountain Preserve in Julian, California is an entry into a whimsical world, where buildings appear to have sprouted from the landscape, complementing curves and rugged forms in nature, punctuated by colorful stained glass, murals and more.
Every year on Father's Day, the Ilan Lael Foundation opens up the property to the public for a tour of the property, where James and his wife, Anne, still reside.  I had the pleasure of taking the tour this year.
Asked to name his greatest inspiration, Hubbell replies without hesitation, "Nature. I've always understood nature." 
Having recently returned from Barcelona, Spain, I noted some similarities between Spanish architect Antoni Gaudi, known for his free-form modernism and colorful style.  Hubbell says he admires the works of Gaudi.
After studying at Cranbrook Art Academy in the mid-1950s and studying the works of Eli Saarinen's designs incorporating nature, Hubbell traveled through Europe, Africa and Asia drawing inspiration from Gaudi's works as well as sculptural traditions in other regions. He became a mural artist while serving in the Army during the Korean War, then returned to the U.S. and married An
ne. They acquired their property near Julian in 1958.
In "Building From the Earth Up," Anne wrote, "Our intent was to create a home that appeared to grow out of the landscape and blend naturally with the gifts of nature. After fashioning a road that curved through the silvery sage and chaparral and digging a deep well through the granite, we started to build."
The couple's original adobe home was soon replaced by a larger though still c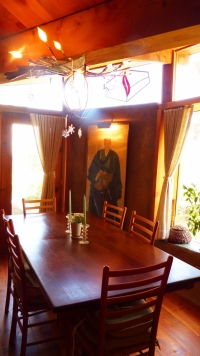 ozy house with elementary reminiscent of Frank Lloyd Wright – rich woods, hand-hewn furniture, and high clerestory windows to fill the space with natural writing.  A colorful countertop mosaic lead the eye through the kitchen into the dining and living rooms beyond. 
The fire suffered damage from the Cedar Fire in 2003. The kitchen and living room now contain cedar flooring and ceiling beams of wood reclaimed from an earlier blaze, the Pines Fire in 2002.  Reinforced steel and concrete columns inside adobe walls add stre
ngth, while hand-forged iron hardware on doors on the property add elements of charm.
Beyond a
free-form swimming pool heated by passive solar likes the boys' house, built for the Hubbell's three boys.  This child's delight space includes mosaics on floors featuring, aptly, a firebird as well as peacocks and songbirds. A bath revamped after the Cedar Fire features glistening glass in blue and green hues as well as abalone shells and other ocean-themed treasures.
The tour includes several studios including a stained glass studio, where we were able to observe works in progress.
The Kiva Gallery, built if salvaged adobe and fired brick walls, is illuminated by light from a central opening crowning the ceiling similar to Hopi kivas. There's also a separate sculpture studio.
A passage garde
n leads guests pass through flowering beds, raised vegetable gardens, herbs and stone fruit trees; a guitarist and singer entertained guests amid a profusion of colorful plants during the tour.
There's also a sculpture garden including art collected by James' brother, Bert.
The chapel, built in 2009 by students, is a small open structure where light filters through stained glass to create a colorful light show below; it's a favorite selfie spot for visitors to pose while at other times, providing quiet contemplative space.
The tour also includes the new Ilan-Lael Foundation Center, where you can see exhibits of seven parks created in a single day around the Pacific Rim, al featuring Hubbell's distinctive style. Mosaic surfboards on display capture the southern California spirit. The facility also includes community meeting space available for rental.
A caretaker's residence features a dramatic shower, one of several on the property. Here, a horse and birds adorn walls and ceiling with colorful flair.
There's also a gift shop and a rooftop deck where guests can enjoy views of the adjacent Volcan Mountain Preserve.  In 2010, Bert Hubbell donated 30 acres of undeveloped adjacent land to assure pristine surroundings for posterity.
James Hubbell has received many awards, honors and lifetime achievement recognitions, including from the National Endowment for the Arts, the American Institute of Architects, Rotary International, The United National Eleanor Roosevelt Human Rights
Award, and the Pacific Coast Builders Conference. His works have been featured on the Travel Channel and KPBS documentaries, as well as on Home and Garden TV.
Next up, Hubbell has expanded into film making and becoming an author of children's books through Tortoise Film and Publishing Co. In "A Tale of A Tortoise and a Butterfly," he writes of a tiny but broadly traveled butterfly, concluding with these sage words:  
Because the tiny butterfly is so small, the world thinks she is insign
ificant. But she can fly anywhere and see the way of the world  from many places. She can imagine things that people often cannot. After all, imagination is like a tiny seed that we can nurture and grow, and may one day change the world."
Learn more about James Hubbell and his art at http://jameshubbellart.com/.  
Learn more about the Ilan Lael Foundation at ilanlaelfoundation.org/.