Printer-friendly version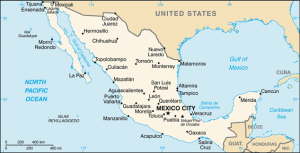 East County News Service
December 28, 2014 (San Diego)--The U.S. State Department has broadened its warning for U.S. citizens regarding risks of traveling to parts of Mexico due to criminal activity that has resulted in deaths of 85 American citizens this year, including some who were innocent bystanders. Kidnappings are also on the rise; 130 American citizens were kidnapped during the first 11 months of this year.
For the first time, the warning now includes major cities and travel destinations in Baja California including Tijuana, Rosarito, Ensenada and Mexicali.  Major concerns include criminal activity along highways, especially at night.  Turf battles between criminal groups have resulted in numerous homicides, including shootings of innocent bystanders, even during daylight hours.
Travelers are also advised to exercise caution in Baja California Sur in the state capital of La Paz, as well as Cabo San Lucas, major travel destinations that have experienced high rates of violence including homicides.
Other Mexican states with travel advisories for U.S. citizens include Agauscalientes, Chihuaha, Coahuila, Colima, Durango, Estado de Mexico, Guerrero, Jalisco, Mexico City, Michoacán, Morelos, Nayarit, Nuevo Leon, San Luis Potosi, Sinaloa, Sonora, Tamaulipas, Veracruz and Zacatecas.  These states include many  major resort and tourist destinations, such as Acapulco.
While millions of American citizens safely visit Mexico each year and there is no evidence that Americans have been specifically targeted, U.S. citizens have fallen victim to criminal activity, including homicide, gun battles, kidnapping, carjacking, and highway robbery. 
Gun battles between rival criminal organizations or with Mexican authorities have taken place in towns and cities in many parts of Mexico.  Gun battles have occurred in broad daylight on streets and in other public venues, such as restaurants and clubs.  During some of these incidents, U.S. citizens have been trapped and temporarily prevented from leaving the area. Criminal organizations have used stolen vehicles to create roadblocks on major thoroughfares, preventing the military and police from responding to criminal activity.
According to statistics published by the Mexican Secretaria de Gobernacion (SEGOB), in 2013 kidnappings nationwide increased 20 percent over the previous year.  The states with the highest numbers of kidnappings were Tamaulipas, Guerrero, Michoacán, Estado de Mexico, and Morelos.  Additionally, according to a study by National Institute of Statistics and Geography, Mexico suffered an estimated 105,682 kidnappings in 2012, but only 1,317 were reported to the police.  Police have been implicated in some of these incidents.  Both local and expatriate communities have been victimized.  U.S. citizens are encouraged to lower their personal profiles and to avoid displaying indicators of wealth such as expensive or expensive-looking jewelry, watches, or cameras.  U.S. citizens are encouraged to maintain awareness of their surroundings and avoid situations in which they may be isolated or stand out as potential victims.



Kidnappings in Mexico have included traditional, "express," and "virtual" kidnappings. Victims of traditional kidnappings are physically abducted and held captive until a ransom is paid for release.  "Express" kidnappings are those in which a victim is abducted for a short time and forced to withdraw money, usually from an ATM, then released.  A "virtual" kidnapping is an extortion-by-deception scheme wherein a victim is contacted by phone and convinced to isolate themselves from family and friends until a ransom is paid.  The victim's family is then contacted and a ransom for the "kidnapped" extracted.  Recently, some travelers to Mexico staying at hotels as guests have been targets of such "virtual" kidnapping schemes.
Of particular safety concern are casinos or other gambling establishments and adult entertainment establishments, the State Department reports.  Carjacking and highway robbery are serious problems in many parts of the border region, and U.S. citizens have been murdered in such incidents—though most victims who complied with carjackers' demands were not physically harmed.  Carjackers have shot at vehicles that have attempted to flee.  Incidents have occurred during the day and at night, and carjackers have used a variety of techniques, including roadblocks, bumping/moving vehicles to force them to stop, and running vehicles off the road at high speeds.  There are indications that criminals target newer and larger vehicles, especially dark-colored SUVs.  However, even drivers of old sedans and buses coming from the United States have been targeted.  Violent carjackings usually occur at night and on isolated roads, so traveling between cities only during daylight outs and avoiding isolated roads can reduce your risk. 
The Mexican government has deployed federal police and military personnel throughout the country as part of its efforts to combat organized criminal groups.  U.S. citizens traveling on Mexican roads and highways by car or bus may encounter government checkpoints, staffed by military or law enforcement personnel.  In some places, criminal organizations have erected their own unauthorized checkpoints, at times wearing police and military uniforms, and have killed or abducted motorists who have failed to stop at them.  So you should cooperate at all checkpoints, the State Department advises



Demonstrations are common but can turn confrontational and escalate into violence.  Protesters in Mexico may block traffic on roads or take control of toll booths on highways. U.S. citizens are urged to avoid areas of demonstrations.   Travelers who encounter protestors demanding unofficial tolls are generally allowed to pass upon payment. U.S. Citizens should avoid participating in demonstrations and other activities that might be deemed political because the Mexican Constitution prohibits political activities by foreigners, so such actions may result in imprisonment or deportation.
The Department since 2010 has imposed restrictions on U.S. government employees' travel in Mexico, including banning night driving in some areas, which means U.S. government personnel will not be able to respond quickly to help Americans in an emergency situation.

 
Further Information 



For more detailed information on staying safe in Mexico, including the latest alerts, visit www.Travel.State.gov.  Up-to-date information on security can also be obtained by calling 1-888-407-4747 toll free in the United States or for callers outside the United States, a toll line at 001-202-501-4444. 
U.S. citizens traveling or residing overseas are encouraged to enroll with the State Department's Smart Traveler Enrollment Program. 
For emergencies involving U.S. citizens in Mexico, contact the U.S. Embassy or U.S. Consulate.  For information on the ten U.S. consular districts in Mexico and links to their websites, please consult the Mexico U.S. Consular District map on the State Department's website for travelers at www.travel.state.gov.