Printer-friendly version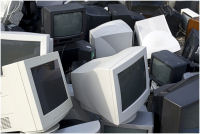 January 8, 2014 (La Mesa) – In order to create a cleaner environment for our community, the La Mesa Chamber of Commerce is hosting a free electronic waste (e-waste) recycling collection event on Saturday, January 11 and Sunday, January 12 from 9 a.m. to 4 p.m. The event will be held in the parking lot of Grossmont Center between Chuze Fitness and Fuddruckers, 5500 Grossmont Center Drive in La Mesa.
The event is a free service to everyone to properly dispose of your old TV's, computers, printers, and other approved items, and at the same time, help reduce improper and illegal dumping in our city and landfills. 
E-waste includes (in working condition or not): Computer Monitors,  Television sets, PC Systems, Printers, Laptops, Copiers, Scanners, Fax Machines, Toner Cartridges, UPS & PDAs, Power Supplies, Main Frame Units, Networking Equipment, Mother Board Systems, VCR/VCD/DVD Players, Home Entertainment Systems, Landline and Cellular Phones, & Small Portable Devices.  Car and forklift batteries are also accepted.  There is a $5.00 service fee for Microwave Ovens.  This event does not accept: Refrigerators, Washer and Dryers, Fluorescent Light Bulbs, and Household Batteries.