Printer-friendly version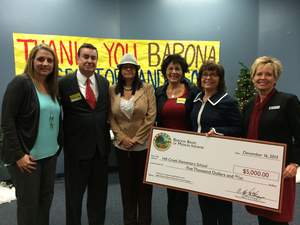 Senator Joel Anderson Nominated Hill Creek Elementary School for Updated Technology
December 20, 2013 (Santee) – The Barona Band of Mission Indians is ending 2013 on a high note by awarding an education grant to a deserving local school. The program's most recent $5,000 grant was presented by Councilwomen Beth Glasco and Bonnie LaChappa to Hill Creek Elementary in Santee, fulfilling important educational resources on both students' and faculty's holiday wish lists. Senator Joel Anderson nominated Hill Creek Elementary for the grant.
Hill Creek Elementary will use funds to purchase much needed technology for K through 8th grade students including 10 Tech4Learning licenses and 4 licenses for Read Naturally. The grant will also equip classrooms with three computing stations, one Dell desktop computer and 9 LED monitors, keyboards and mouse sets.
Clifford La Chappa, Chairman of the Barona Band of Mission Indians, stated,"The Barona Tribe is thrilled to present this education grant during this season of giving and we wish all of the teachers and students happy holidays. We are looking forward to awarding many more grants to deserving schools like Hill Creek Elementary in 2014."
Since 2006, the Barona Band of Mission Indians has awarded over $2 million to more than 400 schools statewide to help bridge school budget gaps and share resources through its Barona Education Grant Program.
The program is the first of its kind in California created and administered by a Tribal Government. The goal of the program is to create strong educational opportunities for the children of California building upon the success of the Barona Indian Charter School, which operates under a continuous improvement model. Schools throughout California can apply for educational grants from Barona to purchase much needed supplies and materials that promote academic improvement. Each grant awarded by the Barona Education Grant Program is $5,000. Applications can be downloaded at http://barona-nsn.gov/education.
About the Barona Band of Mission Indians
The Barona Band of Mission Indians, recognized by the United States government as a sovereign nation, has lived on the Barona Indian Reservation in rural eastern San Diego County since 1932.  Prior to that, the Tribe lived on the Capitan Grande Reservation which was established by the federal government in 1875. Long before living on a reservation, the Tribe traveled across Southern California in tune with the seasons and what nature provided. Today, the sovereign nation, governed by an elected Tribal Council, is serving its Tribal members, their families, and sharing with the San Diego region. One of the most successful gaming Tribes in the country, Barona also owns and operates the Barona Resort & Casino, San Diego's leading gaming resort, casino and golf course. For more information, visit www.barona-nsn.gov.