Printer-friendly version
By Miriam Raftery
Richard Darvas also contributed to this report
 
June 9, 2010 (San Diego) – By a solid 56.8% margin, Sheriff Bill Gore won reelection to another four year term. Had he received less than 50%, a run-off race in the fall would have been triggered. Gore was appointed to fill the top lawman's spot when Sheriff Bill Kolender retired.
Gore's handling of prominent cases including the Chelsea King murder investigation contributed to his victory. In East County, his office's efforts to obtain grants that boosted border security may also have raised his approval among voters.
"I think our positive message of focused, professional strategies to fight crime resonated with the voters," he said, according to the North County Times. "Crime is at a 25-year low in San Diego County, and that doesn't happen by accident. It happens by working closely with partner agencies who all have the same goals."
 
"We worked hard; we worked honest, so I feel good," former Assemblyman Jay LaSuer, who drew 22.39% of the vote, told East County Magazine. Jim Duffy, son of a former Sheriff, got 20.78%. All precincts have been counted, though 160,000 absentee ballots remain to be counted, along with provisional ballots.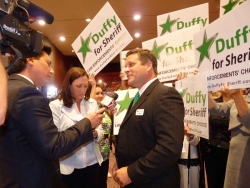 Duffy spoke with ECM earlier in the evening, before returns came in. "We are not the big-money candidate," he said. "We're a grassroots campaign."