Printer-friendly version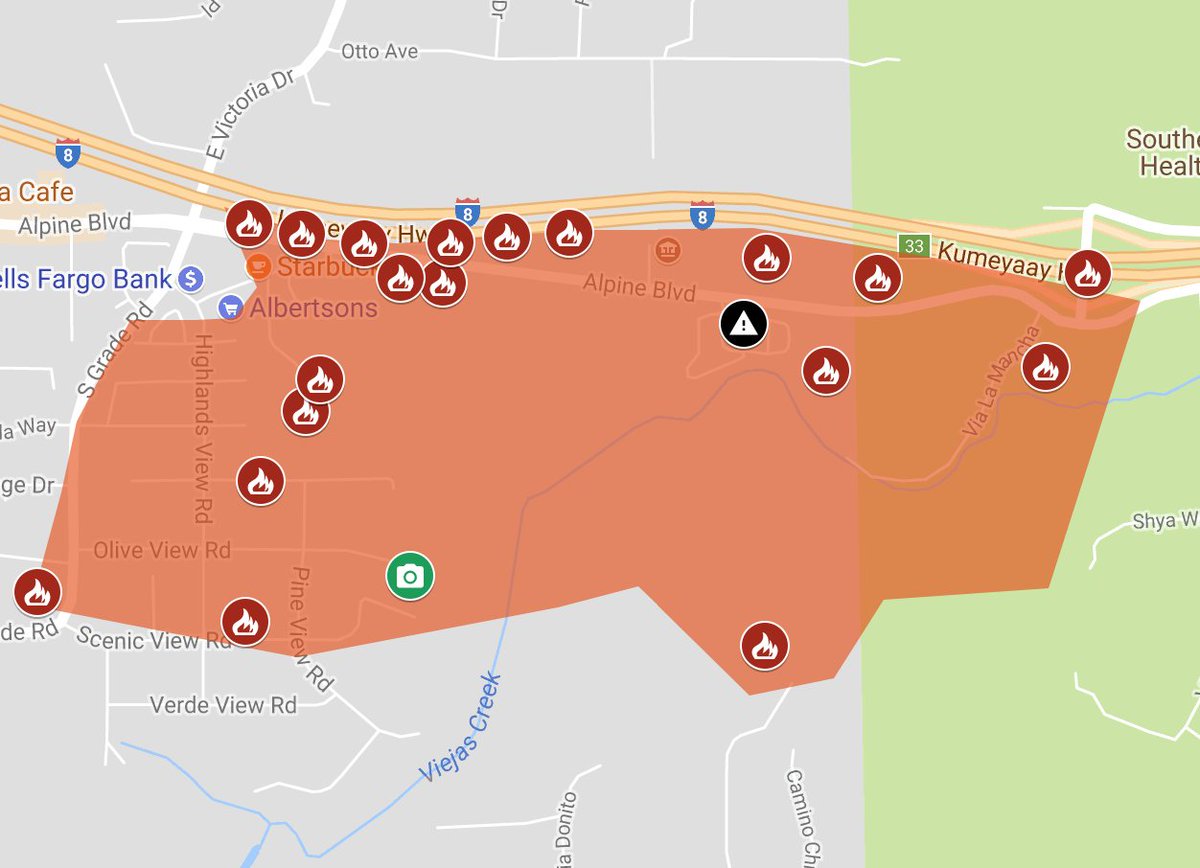 Update 5 p.m. The County has declared an emergency due to the fires: County proclaims a local emergency due to the fires:  http://www.sdcountyemergency.com/updates/county-proclaims-local-emergenc...   The Governor has also declared a state emergency in San DIego County moments ago: @JerryBrownGov declares state of emergency in San Diego County due to #WestFire https://bit.ly/2MPRlNi
Update 3:10 p.m.:  10 News, ECM's news partner, has provided a map of the #WestFire in Alpine.
Update 2:30 p.m. Fire is now 350 acres in Alpine and 0% contained.
Update 2:10 p.m. Lakeside Rodeo Grounds is open for large animal evacuations.
Update 1:50 p.m.  CHP has shut down I-8 east at Tavern Rd. The Tavern and Willows Rd. exits are also closed. Over 1,400 homes are without power in the Alpine area due to lines damaged by the fire; estimated restoration time is 4 p.m. per SDG&E.
Update 1:30 p.m.:  The #WestFire in Alpine is now 150 acres. Mandatory evacuations are underway. Homes are burning on Honey Hill Road.
Photos:  #WestFire in Alpine, by Robert Scheid
View video:https://www.facebook.com/robert.scheid.35/videos/1024052857719513/
July 6, 2018 (San Diego's East County) -- Two brush fires have burned at least one structure each in Dulzura and Apine.  The #StructureFire at State Route 94 and Community Rd. in Dulzura has charred over 10 acres per Cal Fire and prompted 144 evacuation notices to be issued per County Emergency Services.  NBC 7 has film of a structure in flames.
In Alpine, the #WestFire started south of I-8, west of Willows, and is burning toawrd mobile homes, an eyewitness at the scene advises ECM. It is now estimated at 10-15 acres per Cleveland National Forest which confirms structures are threatened. A Fox TV video shows at least one structure already burning.  A DC 10 has been requested.
Robert Scheid, an eyewitness at the scene, says the fire in Alpine is burning toward mobile homes and that some flames are as tall as power poles.
Sign up for free East County Wildfire and Emergency Alerts via email here. You can also opt to receive our free weekly e-newsletter wi
th top news and events in East County.  For text alerts on your mobile phone,you can follow EastCountyAlert on Twitter. We recommend all of the above, since you don't know what form of communication will work best in a local or regional emergency where phone lines, cell towers or cable/internet equipment could be impacted.