Printer-friendly version
November 23, 2009 (Lakeside) – After an evenly played first half Friday night, the Vaqueros of El Capitan High School dominated the visiting Wildcats of Brawley High School in the second half en route to a 35-10 win.
This was the first round of the CIF San Diego Section Division III playoffs. El Capitan entered the game as an eighth seed, while Brawley was the ninth seed. 
The game got off to a fast start for the Vaqueros as their stingy defense remained true to form. They forced Brawley to go three-and-out on their first possession, and after forcing the Wildcats to punt, took over with excellent field position on the Brawley 28-yard line.
On their first drive, the offense for the Vaqueros spent even less time on the field than the defense did. Matt Burkett ran for five yards on the first play from scrimmage and followed up with a 23 yard run for a touchdown to put El Capitan up 7-0.
Brawley responded with a big play on the first play of their next possession, when Donald Wharton threw to Frankie Mendoza on a pass play that went for 39 yards. The Wildcats were able to get as far as El Capitan's four-yard line, but the drive stalled, so they settled for a 21-yard chip shot field goal by Xavier Martinez to get on the board, and make the score 7-3.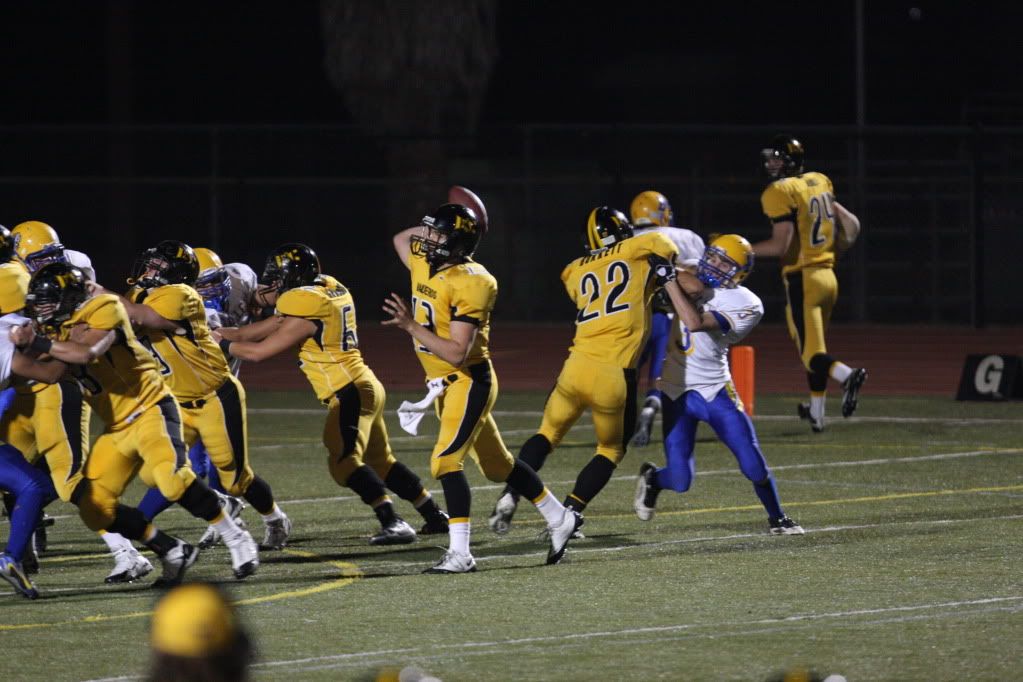 The game shifted in the Wildcats' favor as it seemed like they had taken some pages out of the Vaqueros' playbook. First, their defense forced El Capitan to go three-and-out, and then they responded on offense with a big running play of their own. Mendoza broke free on a 77-yard touchdown run that put Brawley ahead, 10-7.
After El Capitan's next drive, it looked like the game was turning into a barn-burner. The Vaqueros went on an impressive 10 play drive that was a good mix of runs and passes as four different players either ran or caught the ball.
The momentum the Vaqueros had established on this drive seemed to have stopped when Mark Scharfenberg was sacked for a seven yard loss that forced El Capitan into a fourth and 10 from the 23. No one on the Vaqueros seemed fazed by the predicament as Scharfenberg connected with Burkett on a 23-yard pass play for a touchdown that gave El Capitan a 14-10 lead.
With the playoff atmosphere, the cool, crispy weather and both teams playing so well, the game so far was everything that fans could have expected. The only thing missing was Keith Jackson calling the play-by-play.
As it turns out, the next drive may have been the turning point of the game. Brawley started on their 19-yard line, but moved the ball downfield as Wharton connected on pass plays of 31 yards to Aaron Ortega and 16 yards to Raven Smith.
The time consuming drive went fifteen plays and took off the clock, but came up short. Brawley failed to get into the end zone on fourth and goal from the one-yard line when El Capitan's defense toughened up and tackled Mendoza for a four-yard loss. The score remained 14-10 at halftime.
The second half was all El Capitan. Once again they had great field position as Ryan McBurney returned the second half kickoff 29 yards to give the Vaqueros the ball at their own 44-yard line. Earlier he had returns of 27 and 28 yards that gave El Capitan great field position to start drives.
With the short field, it was easier for Scharfenberg and company to move down the field. Tyler Mason opened the drive with three straight runs covering a total of 39 yards. Robert Craighead later caught a six-yard touchdown pass to extend El Capitan's lead to 21-10. He must have breathed a sigh of relief, because two plays earlier, he committed a false start penalty with second and goal from the three-yard line.
The game would only get worse for the Wildcats. James Gallivan intercepted a pass from Wharton and nearly returned it for a touchdown. It set up an 11-yard touchdown pass reception by Mason that gave El Capitan seven more points and a 28-10 lead.
In spite of being down by three scores late in the game, Brawley still had a lot of fight left in them, and went on another extended drive that covered 16 plays. It was very similar to the extended drive that they had in the first half. Unfortunately, it was too similar as it also had the same outcome: El Capitan's defense toughened up once again and denied Brawley on a fourth and goal-to-go play.
Scharfenberg connected with Brooks Noble on a three-yard touchdown pass late in the game to make the final score 35-10. 
"It was my first touchdown on varsity. It was a little cob route where we fake the fade and come back to the outside and Mark made a good throw," Noble said about his touchdown pass reception.
Brawley threatened to score on their final drive, but once again was denied by the nasty defense of the Vaqueros.
El Capitan Coach Ron Burner was not surprised with his team's offensive production, even though the Vaqueros have a reputation for being more of a defensive team.
"I thought the offense was coming around. Did I expect 35 points? No, I thought maybe 21, two or three touchdowns," Coach Burner said, "I think our offensive line came to play."
Burkett felt the same way as his coach did, "Our o-line blocked good and our receivers blocked good and everything just came together"
The Vaqueros will need everything to come together next week as their opponent next Friday is Cathedral Catholic, the number one seed in Division III.
Tonight's win gives El Capitan a 7-4 record. With the loss, Brawley finishes the season with an 8-3 record.
Christopher Mohr is a freelance writer in the San Diego area and is an avid Chargers, Padres and Detroit RedWings fan
Scoring Summary
__________________________________________
| | | | | | | |
| --- | --- | --- | --- | --- | --- | --- |
| Brawley | 10 | 0 | 0 | 0 | - | 10 |
| El Capitan | 7 | 7 | 14 | 7 | - | 35 |
__________________________________________
First Quarter
            EC - Burkett 23 run (Noble kick)
            B – FG Martinez 21
            B – Mendoza 77 run (Martinez kick)
Second Quarter
            EC – Burkett 22 pass from Scharfenberg (Noble kick)
Third Quarter
            EC – Craighead 6 pass from Scharfenberg (Noble kick)
            EC – Mason 11 run (Noble kick)
Fourth Quarter
            EC – Noble 3 pass from Scharfenberg (Noble kick)