Printer-friendly version
By Liz Alper
Photos in order:  Cal Quantrill, Hudson Sanchez, Eric Lauer and Buddy Reed, courtesy @MLBDraftTracker on Twitter
June 9, 2016 (Secaucus, Nj.) - The 2016 MLB draft began today and everyone waited with baited breath to see who the Padres would pick.  Voice of the Padres Dick Enberg was at the MLB studios in New Jersey to announce some second round picks.

Only Rounds One and Two were today.  In Round One, the Padres held the eighth pick.  They also held the 24th and 25th picks as compensation from the Detroit Tigers (Justin Upton) and Royals (Ian Kennedy).  In Round Two, the Padres selected 48th.  The Padres also received one lottery round pick, picking 71st in Lottery Round B.

With the eighth pick, the Padres selected right handed pitcher out of Stanford, Cal Quantrill, son of former Toronto Blue Jays pitcher Paul Quantrill.  The 20-year-old out of Port Hope, Ontario, Canada is the #22 prospect on MLB.com.  His best pitch is a sharp 89-94 MPH fastball.  He missed the 2015 season due to Tommy John surgery.  He was previously drafted by the New York Yankees in the 26th round of the 2013 draft.
With the 24th pick, the Padres selected Texas high school shortstop Hudson Sanchez.  Seventeen years old out of Carroll Senior High School in Southlake, Texas, he's committed to Texas A&M.  He's 6'2" and can hit for average and power.
And with the 25th pick in the first round, the Padres selected Kent State's left hander Eric Lauer.  The 21-year-old Ohio native is the #27 prospect on mlb.com and his pitches reach the 90s, with his best pitch being a 90-92 MPH fastball.  He was previously drafted by the Jays in the 17th round of the 2013 draft.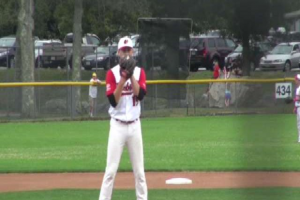 In the second round, the Padres made their 48th overall pick, University of Florida outfielder Buddy Reed.  Reed is a tall, athletic switch-hitter from the Bronx who can steal bases.  The 21-year-old is the #30 prospect on mlb.com and was previously drafted in the 35th round by the Texas Rangers in 2013.
The Padres' last pick of the day, their lottery pick, the 71st overall pick, was right handed pitcher Reggie Lawson out of Victor Valley High School in Victorville, California.  A tall 18-year-old who is committed to Arizona State, he throws a blazing 92-94 MPH fastball.  He's #100 on the prospect list on mlb.com.


Day two of the draft, which will feature Rounds 3-10, will start at 10:00 a.m.