Printer-friendly version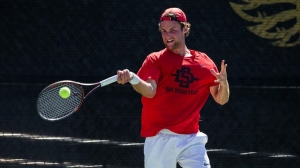 Aztecs fall short in four of five completed singles matches
Source:  goaztecs.com
Photo courtesy goaztecs.com
March 29, 2019 (Logan, Utah) - San Diego State had its three-match winning streak snapped on Friday after dropping a 4-2 decision to Utah State in its Mountain West opener at the Sports Academy and Racquet Club.
The Aztecs captured the early doubles point but managed just one victory in five completed singles matches, falling to 8-7 on the year and 0-1 in MW competition, while the Aggies move to 14-7 overall and 2-0 in conference action.
SDSU seemed poised to break a three-match skid vs. USU after winning two doubles encounters. Sander Gjoels-Andersen and Ignacio Martinez gave the Scarlet and Black some momentum out of the gates with a 6-3 victory over Isaac Arevalo Gómez and Jose Carvajal in the No. 1 position. Moments later, Jan Kirchhoff and Fabian Roensdorf held off the Aggie duo of Rithvik Bollipalli and Sergiu Bucur by a 7-5 tally in the second spot to put the visitors up 1-0.
Meanwhile, the No. 3 match was suspended, with Rafael Gonzalez Almazan and Arnaud Restifo clinging to a 6-5 lead over Felipe Acosta and Duro Opacic.
However, the tide quickly turned in Utah State's favor, as the host school reeled off three straight victories to start the singles round, including two in straight sets. Martinez fell victim to Acosta in the No. 4 spot, 6-1, 6-4, while Kirchhoff was ousted by Bucur in narrow fashion at No. 3, 6-4, 7-5.
Over on court No. 2, Roensdorf claimed the first set in his encounter with Carvajal but could not build on his advantage, ultimately dropping a three-set decision, 4-6, 6-3, 7-5.
Gjoels-Andersen broke the Aztecs' drought after rallying past Arevalo Gómez in three sets, 4-6, 6-3, 7-5, in the No. 1 slot. However, any chance of an SDSU comeback was soon vanquished when Bollipalli emerged with a 6-3, 6-1 conquest of Restifo at No. 5.
With the requisite fourth point obtained, the No. 6 match featuring Gonzalez Almazan and Opacic was abandoned, with the Aggie player holding a 1-0 lead in the second set after winning the first, 6-1.
UP NEXT
San Diego State will square off against another Mountain West opponent on Sunday, March 31 when Boise State invades Aztec Tennis Center at noon.
Utah State 4, San Diego State 2
March 29, 2019
Logan, Utah
Sports Academy & Racquet Club
Doubles
1. Sander Gjoels-Andersen/Ignacio Martinez (SDSU) def. Isaac Arevalo Gómez/Jose Carvajal (USU), 6-3
2. Jan Kirchhoff/Fabian Roensdorf (SDSU) def. Rithvik Bollipalli/Sergiu Bucur (USU), 7-5
3. Rafael Gonzalez Almazan/Arnaud Restifo (SDSU) vs. Felipe Acosta/Duro Opacic (USU), 6-5, DNF
Order of finish: 1, 2
SDSU wins doubles point
Singles
1. Sander Gjoels-Andersen (SDSU) def. Isaac Arevalo Gómez (USU), 6-4, 3-6, 7-5
2. Jose Carvajal (USU) def. Fabian Roensdorf (SDSU), 4-6, 6-4, 6-2
3. Sergiu Bucur (USU) def. Jan Kirchhoff (SDSU), 6-4, 7-5
4. Felipe Acosta (USU) def. Ignacio Martinez (SDSU), 6-1, 6-4
5. Rithvik Bollipalli (USU) def. Arnaud Restifo (SDSU), 6-3, 6-1
6. Duro Opacic (USU) vs. Rafael Gonzalez Almazan (SDSU), 6-1, 1-0 DNF
Order of finish: 4, 3, 2, 1, 5*
* Match-clinching victory
Records: SDSU (8-7, 0-1 MW), USU (14-7, 2-0 MW)